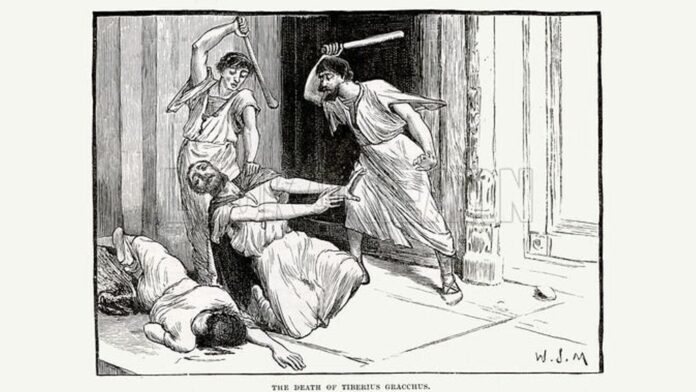 Tiberius Gracchus was a Roman politician and official in the Second Century BC. Gracchus was a member of the populares, a faction that sided with the plebian – the common people – against the conservative aristocratic patricians who had traditionally held power in Rome. At the time of Gracchus the small independent farmers of the Roman Republic were increasingly feeling economic pressure from the concentration of public lands into giant estates held by aristocrats. Rome, a nation whose strength had also been built on a class of free, independent men was now increasingly owned and controlled by a strata of oligarchs.
Tiberius Gracchus proposed reforms to break up the giant estates and redistribute the land to average Romans. He was vehemently opposed to the aristocrats and made no secret of his intention to destroy their power. He was aggressive. He was loud. He threatened the entire power structure of those who believed the Republic belonged to them.

In 132 BC Tiberius proposed to run for reelection to the office of tribune, a powerful Roman administrative position with the charter to represent the plebians. In doing so, he appeared to violate a tradition that barred an office holder from seeking reelection. The Roman Senate, the epicenter of the power of the oligarchs, was terrified at the prospect that Gracchus would run again and that the reforms he proposed might fundamentally change Rome and bring to an end their control over Rome's government and society.
Gracchus had to be destroyed by any means necessary. On the pretext that he intended to make himself king he was attacked in a public marketplace and beaten to death by a mob led by Roman Senators and their allies.
Read Full Article on AndMagazine.com
About Charles Faddis
Charles Sam Faddis, Senior Partner- Artemis, LLC is a former CIA operations officer with thirty years of experience in the conduct of intelligence operations in the Middle East, South Asia and Europe. His last assignment prior to retirement in May of 2008 was as head of the CIA's terrorist Weapons of Mass Destruction unit. He took the first CIA team into Iraq in the Summer of 2002 in advance of the invasion of that country and has worked extensively in the field with law enforcement, local security forces and special operations teams. Since retirement, he has written extensively, provided training to a wide variety of government and private entities and appears regularly on radio and television.