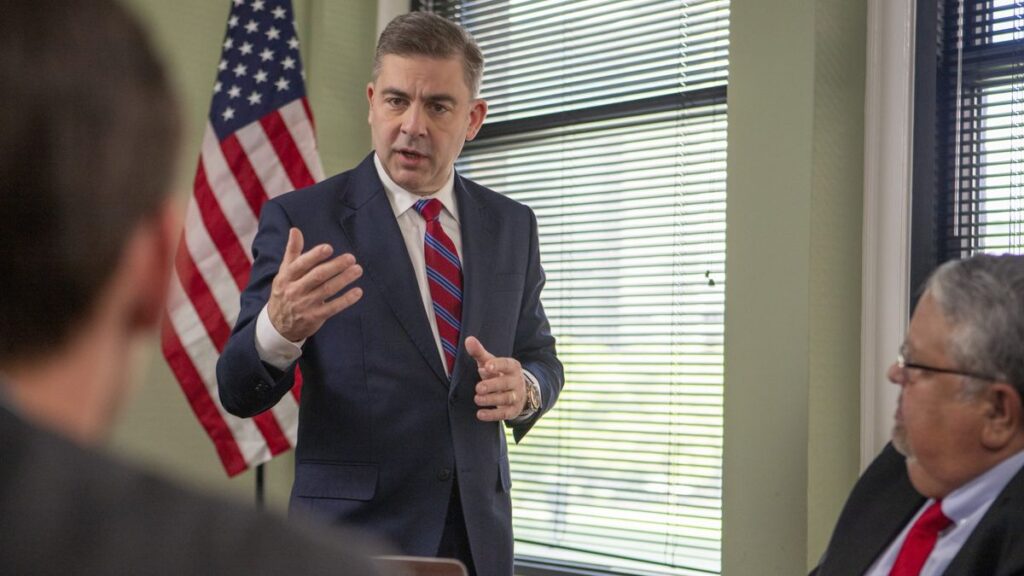 Pro-trump. America First. Outsider. Ready To Fight.
Values Worth Fighting For
Economy & Jobs
We have the blueprint to build a booming economy. President Trump handed it to us. His America first policies worked and we all benefitted. Lowering taxes, cutting red tape, demanding fair trade deals, and investing in our military. We had record low unemployment, higher wages, stellar GDP growth, consumer confidence at all-time highs, the best markets in history, and list goes on. Now the Biden-Harris administration and their extreme left wing allies in Congress are reversing those policies, bending the knee to China, and threatening our children and grandchildren's economic future.
Operation Warp Speed was a historic success and now it's time to stop reckless Democrat spending and get our economy back to work.
Democrats lied to us by claiming their outrageous funding bills were about fighting the pandemic or building infrastructure. The truth is these bills only set aside a fraction of the combined $4 trillion for those purposes. What is the rest for? Well, instead of funding the most high-speed broadband projects, roads and bridges as possible, Democrats are funding their radical agenda to create more government dependence and less American independence.
The consequences are dire. Inflation is speeding up and consumer prices are rising at the fastest rate since 2008. Just look at gas prices today compared to a year ago – they've skyrocketed. And after a year of fighting for survival in 2020, small businesses are now struggling to hire and keep their doors open because expanded unemployment benefits are disincentivizing work.
This can't continue. Let's get back to the policies that work and be both responsible and transparent with our spending.
American Energy Independence
Our nation is blessed with an abundance of coal, natural gas, and oil that provide the base load electricity needed to power our lives and our future. President Trump understood that fact and embraced a true all of the above energy strategy that made the United States energy independent for the first time in over 60 years.
The fact is, we cannot electrify the economy by eliminating our most reliable sources of electricity. We must invest in new fossil fuel technologies as well as renewables because we need more electricity to run a 21st century economy, not less. Unfortunately though, the Biden Administration and Democrats in Congress no longer believe in an all of the above energy strategy and want to totally eliminate the use of fossil fuels.
The Democrats don't seem to understand the consequences of their short sighted energy policies. When Joe Biden killed the Keystone XL pipeline, he killed thousands of good paying American jobs and, by his own Energy Secretary's admission, the "best way" to transport fuel.
The Democrat "Green New Deal" is a $93 Trillion sham that will destroy our economy, and the Biden climate agenda will give the Chinese Communist Party the advantage it needs to expand its role as the world's largest energy producer.
Energy makes modern life possible and the Democrats are holding America back.
Stop Anti-American Curriculum In Our Schools
This nation was founded on freedom and the belief that all men and women are created equal. We should not be teaching our children to hate America or to oppose one another based on race or gender. We may not be perfect, but our history proves that we are the greatest nation on the planet.
As Senator Tim Scott said: "It's backwards to fight discrimination with different types of discrimination."
About Mike Carey
Mike Carey is a conservative outsider who has spent his career holding politicians accountable and fighting for working class families. He'll be ready to work on day one as an effective legislator who gets things done for the people and communities in Ohio's 15th Congressional District.
Mike grew up in Sabina, a small town right here in the district. Like so many, Mike's hometown molded him into the person he is today. Growing up in rural Ohio, he learned early on the values of hard work, community, and freedom.
From starting his own hay bailing business as a kid, to following his family tradition by serving as an officer in the Army National Guard, to his 20+ year career as an executive in the American energy industry, Mike has always stood for American values and American jobs.
In Congress, he'll do the same by fighting back against the radical Biden-Harris agenda and taking on anyone who refuses to put America first.
Mike believes that we have enough politicians in Washington who are willing to take a knee or cave just to get a campaign check. Mike stood with President Trump when he took on the political establishment and said NO MORE – Drain the swamp!
As your next Congressman, Mike will fight like hell to make sure our communities are not left behind. He knows that America first policies – lowering taxes, cutting red tape, demanding fair trade deals, and investing in our military and first responders – worked and led to the greatest economy of our lifetimes. He'll stop reckless Democrat spending that is causing rapid inflation and only support spending bills that are both responsible and transparent. He'll hold the Democrats accountable for the humanitarian crisis at our southern border and fight to finish the wall! Above all, Mike knows that our Constitution IS absolute and will always defend it.
Mike is also a man of faith and family. As a Christian, Mike is proudly pro-life and a father of two. He resides within the district, in Columbus, with his wife, Meghan and their son. Mike's eldest son is a student at THE Ohio State University and helping the campaign this summer as an intern.