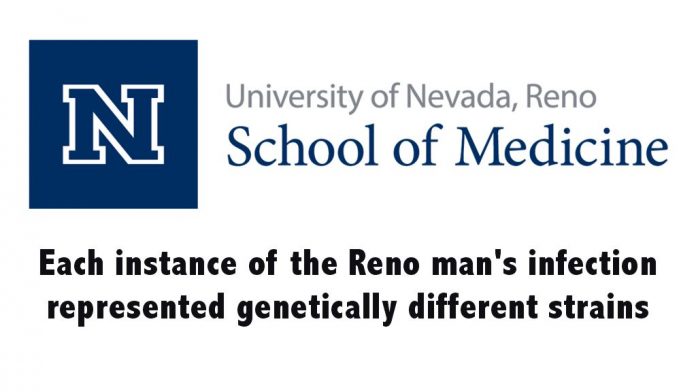 Researchers have identified the first known case of a US patient reinfected with the coronavirus
An unnamed 25-year-old man from Reno, Nevada, first tested positive in April after developing a mild illness including a sore throat and headache
In May, he fell sick again, but this time developed more severe symptoms of COVID-19 such as a fever and dizziness
He had to be hospitalized and tested positive on June 5, marking 48 days after his first positive test
Lab tests determined the strains of the virus from each illness were slightly different, indicating a true reinfection
Earlier this week, a man in Hong Kong and two European patients were also reported to have been reinfected with the virus
Researchers have identified the first case of an American patient who was reinfected with the novel coronavirus.
According to the report, the unnamed 25-year-old man, from Reno, Nevada, tested positive in April after showing mild illness.
He got sick again in late May and developed more severe COVID-19, the disease caused by the virus.
Forty-eight days after his first positive test, he received a second one.
'This study likely represents a clear example of reinfection…reinfections are possible – which we already knew, because immunity is never 100 percent,' Dr Kristian Anderson, professor of immunology and microbiology at Scripps Research in La Jolla, California told Reuters.
Health experts are concerned that a future vaccine may not be very effective if reinfection is possible over such a short amount of time.
During the first illness, the individual had symptoms including a sore throat, nausea, headache and diarrhea, according to the pre-print study.
He tested positive on April 18. His symptoms resolved by April 28 and he received two negative tests on May 9.
Just a few weeks later, on May 31, the man reported symptoms including all the symptoms he had before as well as a fever and feeling dizzy.
Five days later, the patient's condition worsened so much that he was hospitalized, and tested positive for SARS-CoV-2.
Bloodwork run by hospital staff showed that the man had antibodies against the virus.
Researchers say the man was neither immunocompromised nor was he taking immunosuppressant drugs.
A team at the University of Nevada, Reno School of Medicine and the Nevada State Public Health Laboratory said they were able to show through sophisticated testing that the virus associated with each instance of the Reno man's infection represented genetically different strains.
Because the genetic make-up of the strains are different enough, this represents a true reinfection.
Researchers worked with the Washoe County Sheriff's Office Forensic Sciences Unit to determine that the samples were from the same patient.
By Mary Kekatos
Read Full Article on DailyMail.co.uk