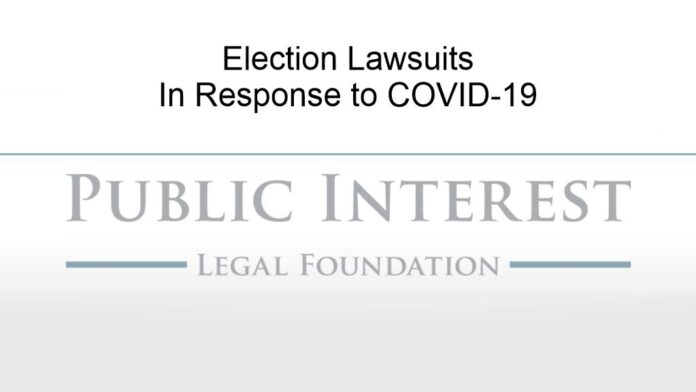 An election integrity group is suing New Jersey Secretary of State Tahesha Way for allegedly violating the National Voter Registration Act (NVRA) by refusing to disclose documentation explaining how election officials resolve duplicate voter registrations.
The Indianapolis-based Public Interest Legal Foundation (PILF) says it needs to view the documents because recent studies show thousands of New Jersey residents possess duplicate, triplicate, or quadruplicate voter registrations.
"Americans have a fundamental right under federal law to see precisely how their voter rolls are maintained," stated PILF President J. Christian Adams, a former civil rights attorney with the U.S. Department of Justice.
"We can't let New Jersey set a trend for concealing standard operating procedures for data entry and hygiene as if they were state secrets—especially when we are seeing persons registered three, four, five, and even six times."
PILF, a nonprofit, describes itself as "the nation's only public interest law firm dedicated wholly to election integrity." It "exists to assist states and others to aid the cause of election integrity and fight against lawlessness in American elections." The group states that it has brought lawsuits and won victories in Texas, Mississippi, North Carolina, Virginia, Maryland, Pennsylvania, and Michigan.
PILF isn't the first to complain to Way about the state's lack of transparency on voter registrations.
State Sen. Kristin Corrado, a Republican, has expressed her concerns in a series of letters to Way.
"Since September 2020, I have written several letters to New Jersey Secretary of State Tahesha Way to request that the election process be made fully transparent while ensuring both County Clerks and the Board of Elections can deliver fair and accurate election results," Corrado wrote in an October 2021 statement.
"I have heard from many constituents who are justifiably concerned about the numerous cases of voter fraud, ballot tampering, incorrect counting, and postal issues over the past year. We need to ensure the accuracy and fairness of the many crucial local, county, state, and federal elections so the rightful winners may represent the people of New Jersey."
Read Full Article on TheEpochTimes.com