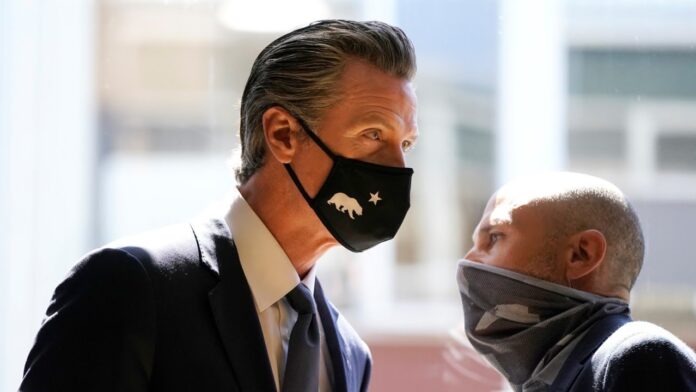 A list of the numerous new California laws which will go into effect on January 1, 2022, including permanent vote by mail and required "ethnic studies" for all California State University campuses.
Senate Bill 9—Toni Atkins (D-San Diego)
SB 9 allows homeowners to build duplexes or fourplexes on their single-family zoned property. The new housing on the lot cannot be used for short-term rentals and homes that have had tenants within the last three years are not eligible for demolition. Properties within historic districts are excluded from the bill.
Proposition 12
Proposition 12 requires farmers to provide more space for hens, pigs, and calves, and businesses are banned from selling products that came from farms that do not meet the requirements.
Senate Bill 10—Scott Wiener (D-San Francisco)
SB 10 allows cities to zone for up to 10 units on any property, provided it is located within a "transit-rich" area that is near a bus route or within a half-mile of major transit.
Senate Bill 1383—Ricardo Lara (D-Bell Gardens)
SB 1383 was signed into law by Governor Brown in 2016 and will take effect on January 1, 2022. The bill requires homes and businesses to recycle organic food waste, which will be decomposed into reusable products. The law's purpose is to eliminate toxic gasses generated during food waste decomposition.
Senate Bill 2—Steven Bradford (D-Gardena)
SB 2 states if law enforcement officers are convicted of "serious misconduct," like excessive force, dishonesty, and sexual assault, they could have their badges revoked.
Senate Bill 332—Bill Dodd (D-Napa)
SB 332 grants protections for landowners and for professionals who carry out "prescribed burns" for forest management or agriculture, indicating they will not be liable for damages resulting from such that are for wildland fire hazard reduction or ecological maintenance.
Assembly Bill 37—Marc Berman (D-Menlo Park)
AB 37 requires the California election office to send every registered voter a ballot by mail and permanently allows voters to cast a ballot by mail for any election.
Assembly Bill 1460—Shirley Weber (D-San Diego)
AB 1460 requires all campuses of California State University to set, at minimum, one 3-unit course in ethnic studies as an undergraduate graduation requirement starting with students graduating in the 2024-25 academic year. The law dovetails with other legislation passed in 2021 requiring high school students to take a one-semester course in ethnic studies in order to graduate.
Assembly Bill 701—Lorena Gonzalez (D-San Diego)
AB 701 requires large warehouse employers—like Amazon—to disclose job performance quotas like how many items to handle per hour; working a certain number of hours per day and rules for time-off, within 30 days of being hired. The law indicates that meals, rest periods, and the use of restrooms, should not interfere with reaching those quotas.
Senate Bill 62—María Elena Durazo (D-Los Angeles)
SB 62 prohibits garment manufacturers from paying their employees by the piece or by the piece rate, and companies that fail to comply with the new law will be fined $200 per employee.
Senate Bill 73—Scott Wiener (D-San Francisco)
SB 73 will remove mandatory sentences for non-violent drug crimes and allow judges to order probation, or community service, rather than jail time.
Senate Bill 389—Bill Dodd (D-Napa)
SB 389 allows restaurants to continue selling to-go wine and cocktails through December 31, 2026. The practice began during COVID-19. The beverage can be ordered either online, through telephone, or in person, and consumers need to pick up the beverage in person. Prior to the law, alcoholic beverages could not be ordered and delivered to consumers.
Assembly Bill 26—Chris Holden (D-Pasadena)
AB 26 requires law enforcement officers to report potential excessive use of force by another police officer and stops retaliation against officers that reported the possible violations to a supervisor.
Assembly Bill 1171—Cristina Garcia (D-Bell Gardens)
The law removes the differences between spousal rape and rape. Those convicted now of spousal rape will face prison time and sex offender registration.
Assembly Bill 453—Cristina Garcia (D-Bell Gardens)
The law makes it a crime to remove a condom without a partner's consent, and it is the first in the country to list such action as sexual battery.
By Sophie Li
Read Original Article on TheEpochTimes.com