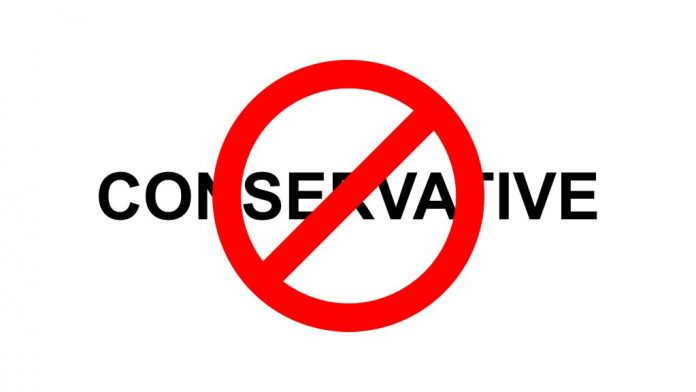 The left's meltdown over the fashion choice of the head football coach at Oklahoma State University has triggered a hot take on conservatives in general.
Left-wing writer Bill Palmer announced open season on conservatives, unloading in a series of tweets on Sunday about the audacity of coach Mike Gundy who is being lambasted for a photo in which he is seen wearing a One America News Network T-shirt.
"People who promote the racist propaganda hate speech on OANN are dangerous thugs. They have no place in respectable society," Palmer announced on Twitter, echoing the left's outrage over the message they are convinced Gundy was sending in his choice of attire.
It appears that @PalmerReport deleted his insane thread calling for conservatives to locked away and dehumanizing them pic.twitter.com/zrDYyvazXM

— Vareck The Smiling Demon (@HistoryVareck) June 16, 2020
Palmer's thread, which declared that "people who flaunt their conservatism are psychotic," was completely removed after being posted and generating backlash.
Gundy was eviscerated over his conservative view with many calling for him to be fired. He quickly delivered an apology to the mob, promising that he was "looking forward to making some changes."
OK. State head coach forced to publicly grovel over wearing a One America News t-shirt in a pic, after black player complains https://t.co/MhbbUXcmSW

— Conservative News (@BIZPACReview) June 16, 2020
"Mike Gundy cannot remain the OK State head coach. Too influential of a position in society. Fire him, unless he agrees to get extensive psychological help," the Palmer Report's tweet continued.
The inane take from the Trump-hating blog was far from over.
Read Full Article on BizPacReview.com
About BizPac Review
BizPac Review is a top-rated political news website that provides breaking news and analysis unfiltered by the liberal bias that has eroded the media's credibility. With public trust in the press sputtering at an all-time low, BizPac Review fills the void with its unparalleled coverage of current events that the mainstream media intentionally ignore.