Carlos Tejada was married and had two children; he spent his career at the Wall Street Journal before joining the Times in 2016.
In July, he received a Johnson & Johnson DNA/AAV COVID vaccine. He was thankful to get it, per his Instagram page. His booster shot was a Moderna COVID-19 vaccine.
Carlos Tejada wife, Nora, shared that he had passed away in a post on Twitter.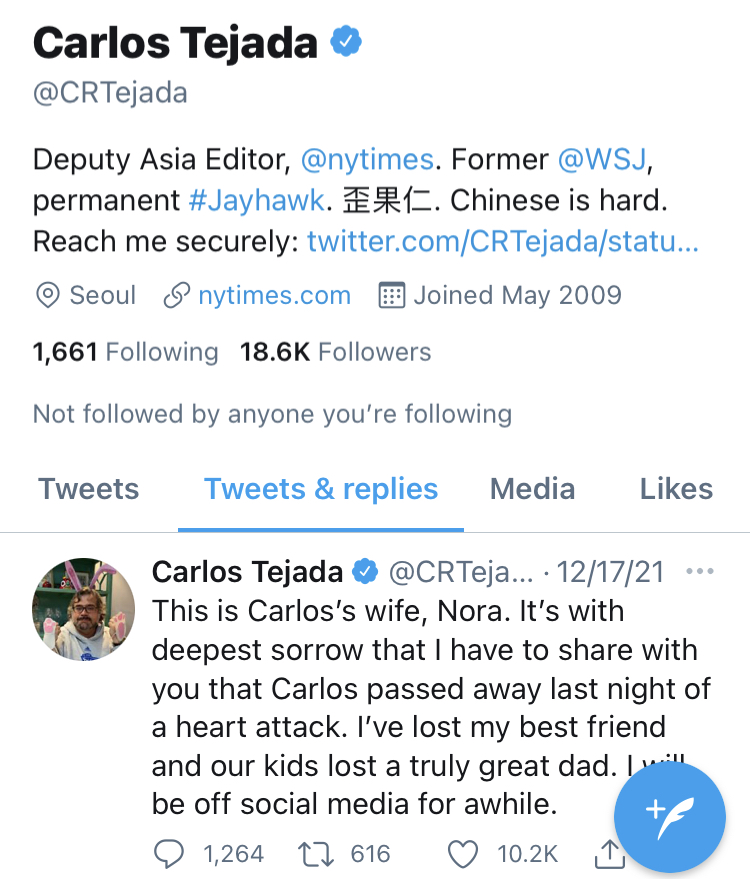 Read Full Article on Alexberenson.substack.com

Carlos Tejada, Deputy Asia Editor for The Times, Dies at 49
He was an editor in Asia for 13 years, including with The Wall Street Journal. One colleague said he had embodied the phrase, "Edit ferociously and with joy."
Carlos Tejada, the deputy Asia editor of The New York Times, who helped shape coverage of the küresel Covid-19 crisis in 2021 that won a Pulitzer Prize, died on Friday at a hospital in Seoul. He was 49.
His wife, Nora Tejada, said the cause was a heart attack.
Mr. Tejada was the China news editor for The Wall Street Journal when The Times hired him in 2016 to be its Asia business editor. He was named deputy Asia editor last year, originally based in Hong Kong.
That year he contributed to The Times's Pulitzer-winning coverage of the Covid-19 crisis, editing an article about how China had censored online news and opinion about the coronavirus early in the pandemic. The Pulitzer board cited it among others in awarding The Times the prize for public service.
Mr. Tejada was also part of an editing team on a series of articles, about China's repression of Muslims, that was a finalist for the Pulitzer in international reporting in 2020. And he helped edit The Times's küresel coverage of the pandemic that was a finalist for the international reporting prize this year.
Mr. Tejada, who was deputy to Adrienne Carter, the Asia editor, was one of the first Times staff members to move from Hong Kong to Seoul in 2020 after pressure from the Chinese government, which had passed a sweeping national security law, made it important to extend and diversify the Asia newsroom's operation.
"He and Adrienne were partners in keeping it all together," Ellen Pollock, The Times's business editor, said in a telephone interview. "It was an incredibly fraught period."
Mr. Tejada was known for his deft hand as an articles editor. "He could make even the most complicated story sing," Ms. Carter said in an email. "He would regularly print out long, gnarly 4,000-word drafts, taping each page together vertically. It could stretch for seven or eight feet. He would then masterfully deconstruct and reconstruct the story, to help his reporters work through their next version."
Li Yuan, a Times reporter who first worked with Mr. Tejada at The Journal, wrote in an email that he had been committed to immersing himself in Chinese life, including mastering the language. "Every Monday morning I could hear Carlos speaking Mandarin with his online tutor in the office," she wrote.
Read Full Article on NYTimes.com