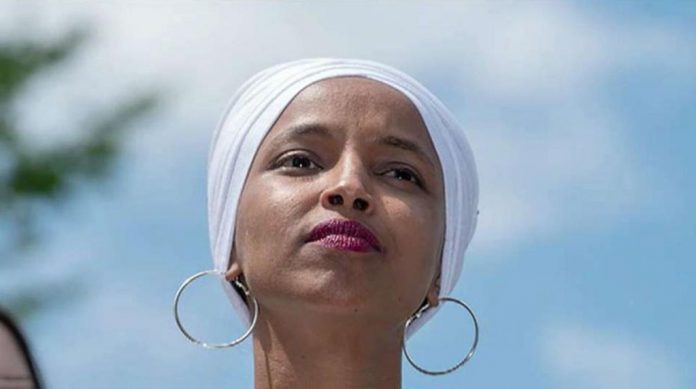 Beyond her accusations of bigotry, her false denials, and her nonresponse responses, Omar's lies have been the order of the day for three years running. Her act is getting old and wearing thin. One wonders how long she can keep the lid on. ~ Scott Johnson
Here is a few paragraphs from Scott Johnson's powerful article in POWERLINE. We recommend that you read the entire article.
Speaking of Esme Murphy, as I did here this morning, I would like to reiterate that Ilhan Omar lied baldly to Murphy about her affair with Tim Mynett and the disintegration of her relationship with current husband Ahmed Hirsi when Murphy interviewed her a few weeks ago. Recall that Omar just got around to marrying Hirsi last year even though she has had three children with him since 2002 and filed joint tax returns with him for years after she was married to Ahmed Nur Said Elmi in 2009. (Murphy had not a single question about the fraudulent tax returns, of course.) Now we have learned that Omar filed for the dissolution of her marriage to Hirsi this past Friday.
President Trump comes to town tonight. Given his occasional interest in the Omar case, it is likely he will have something to say about her at the rally in downtown Minneapolis this evening. This was my September 3 report on the truth behind Omar's facade based on my own reporting this summer:
Of all the scandals in which Ilhan Omar is enmeshed, one might think the Daily Mail's revelation this past July of her affair with political consultant Tim Mynett would be the least of them. The news last week of Beth Mynett's divorce filing, however, has begun to disillusion a Somali community that has taken Omar at face value. Not cool — not cool at all, and it has thrown Omar off her game.
Omar's denial of the affair is a lie that is both obvious and bald-faced. She has therefore run from the tabloid newspapers and the local media as they have sought to report on the scandal. See, for example, Ebony Bowden's New York Post article and accompanying video "Ilhan Omar dodges questions from The Post about alleged affair."
For Omar, offense has always proved the best defense. In this scandal she has run out of plays.
The scandal has pushed the incredible panoply of scandals we have covered in depth on Power Line into the background: the identity fraud, the marriage fraud, the immigration fraud, the tax fraud.
Read full article using the link below: