Follow the money, find the truth. That's Michelle Malkin's journalistic mantra, and in her stunning new book, Open Borders Inc., she puts it to work with a shocking, comprehensive exposé of who's behind our immigration crisis.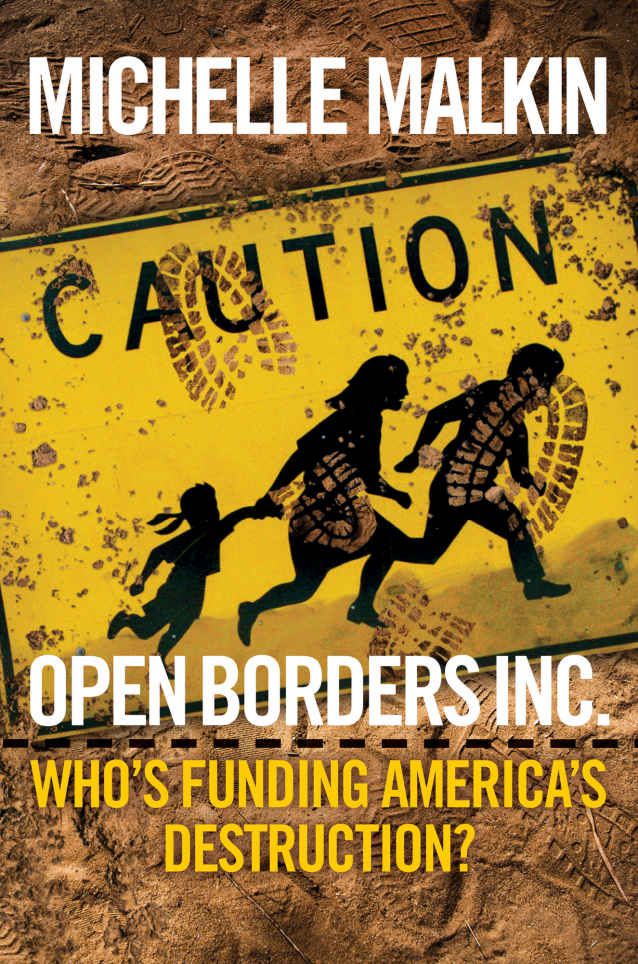 In the name of compassion—but driven by financial profit—globalist elites, Silicon Valley, and the radical Left are conspiring to undo the rule of law, subvert our homeland security, shut down free speech, and make gobs of money off the backs of illegal aliens, refugees, and low-wage guest workers.
Politicians want cheap votes or cheap labor. Church leaders want pew-fillers and collection plate donors. Social justice militants, working with corporate America, want to silence free speech they deem "hateful," while raking in tens of millions of dollars promoting mass, uncontrolled immigration both legal and illegal.
Malkin names names—from Pope Francis to George Clooney, from George Soros to the Koch brothers, from Jack Dorsey to Tim Cook and Mark Zuckerberg. Enlightening as it is infuriating, Open Borders Inc. reveals the powerful forces working to erase America.
Editorial Reviews
Review
"Michelle Malkin has the courage and clarity of vision to articulate exactly what needs to be said and done about America's immigration crisis…. Best of all, she offers a Border Defenders Action Plan for those who are determined to protect and defend America as a free and peaceful society." Author: ROBERT SPENCER, author of the bestsellers The History of Jihad and The Politically Incorrect Guide to Islam (and the Crusades)

"With trademark Malkin ferocity, Open Borders Inc. promises readers an unflinching look at the players who are bankrolling the fight for open borders." Author: ROY BECK, founder of NumbersUSA Action

"Michelle Malkin brings us hard-hitting facts and incisive analysis—all thoroughly documented…. Essential reading." Author: CHRISTOPHER J. FARRELL, Director of Investigations & Research, Judicial Watch

"With Open Borders Inc., Malkin uses her skill as one of the few effective, veteran investigative journalists on the right to issue one final clarion call on behalf of We the People." Author: DANIEL HOROWITZ, author of Stolen Sovereignty

"Michelle Malkin is not a pretty little Filipino girl. That's just what she looks like. Her personality is more like Charles Bronson in Death Wish. When the alt-left's chant of 'No borders—No Wall—No USA at all' went mainstream, Michelle went ballistic, and this book is a veritable reball of finely tuned arguments that beautifully counter the new wave of anti- Americanism. If any book could save America from itself, this is it." Author: GAVIN McINNES, co-founder of VICE, founder of the Proud Boys, host of FreeSpeech.TV
About the Author
MICHELLE MALKIN is a mother, wife, blogger, conservative syndicated columnist, and bestselling author of six books. She founded Internet start-ups Hot Air and Twitchy. Malkin has received numerous awards for her investigative journalism, including the Council on Governmental Ethics Laws (COGEL) national award for outstanding service for the cause of governmental ethics and leadership (1998), the Reed Irvine Accuracy in Media Award for Investigative Journalism (2006), the Heritage Foundation and Franklin Center for Government & Public Integrity's Breitbart Award for Excellence in Journalism (2013), the Center for Immigration Studies' Eugene Katz Award for Excellence in the Coverage of Immigration Award (2016), and the Manhattan Film Festival's Film Heals Award (2018). She lives with her family in Colorado. Follow her at michellemalkin.com.