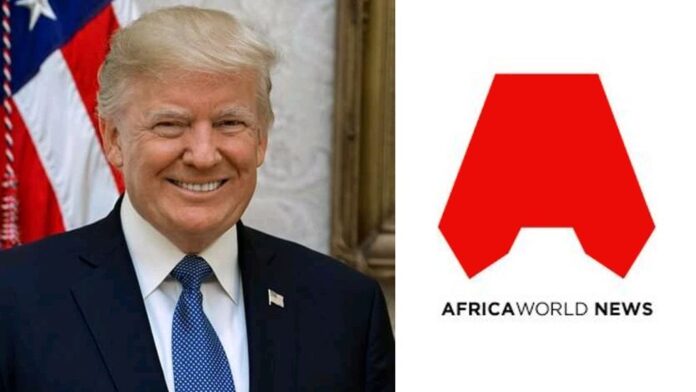 AfricaWorld Newspaper has given President Donald J. Trump the honor of being named AfricaWorld Man of the Year 2020.
On January 20, 2017 when President Donald J Trump was sworn in as the 45th President of the United States of America by Chief Justice John Roberts, many would not have imagined the current global situation. In his inaugural speech, President Trump said he would ensure Americans are placed above politics. "What truly matters is not which party controls our government, but whether our government is controlled by the people," he said. Continuing, "January 20, 2017, will be remembered as the day the people became the rulers of this nation again," he added. President Trump took the oath of office placing his hand on the Bible that was used at Abraham Lincoln's inauguration and his own family Bible, which was presented to him by his mother in 1955 when he graduated from Sunday school at his family's Presbyterian church.
Background
Donald J Trump was born on June 14, 1946 in New York to Frederick Trump and Mary MacLeod. Donald was the fourth of five children. Starting from late 1920s, Frederick Trump erected hundreds of single family homes in the Queens and Brooklyn boroughs of New York City. From late 1940s, Fred also built units of apartments, mostly in Brooklyn with federal loans, designed to stimulate affordable housing. He also constructed housing for naval personnel and shipyard workers in Virginia and Pennsylvania with government support. His son, Donald would later follow his father's steps in real estate development. Like most US presidents, Trump identifies as a Protestant. He was raised Presbyterian by his mother Mary.
School
At 13, his parents sent him to New York Military Academy for discipline and positive energy. He shone brightly at the academy, getting a nickname DT, and he was a big name in College. DT was academically and socially good, rising to become a star athlete and student leader. He graduated in 1964. Donald Trump got admitted into Fordham University in 1964. He transferred to the Wharton School of Finance at the University of Pennsylvania two years later and graduated in 1968 with a degree in economics.
Hardworking and Successful
It is important to know that President Trump was assertive as a kid. His hardworking nature started early: He was the Captain of his College baseball team and a builder like his father Fred. Even while in school, he still worked in his father real estate projects. Though son of a rich man, he learnt the art of hard work. His wisdom in business helped him succeed in many entrepreneurial fields. He sees success where other does not. The Trump organisation, which runs multitude of companies, says much about his conquest in business, with interests in properties, media, hospitality and more.
Africa
Donald Trump as 45th president of the United States is probably the toughest of his challenges. What strikes us more is his practical approach to issues affecting humanity especially Africa. In September, 2017 when he parleyed with leaders of nine African countries, President Trump spelt out his foreign policy on the continent. He recognised six African countries as among ten fastest growing economies. Among the key points he mentioned include shared prosperity, security, peace and health. He even went as far as telling the African leaders about their efforts despite obstacles. It was a simple and candid talk from a Western leader.
Read Full Article on AfricaWorldNewspaper.com
About AfricaWorld Newspaper
"Unless the hunted gives their account, the story of the hunt will always favour the hunter." It is based on this background that AfricaWorld News was founded. To provide objective and quality information on the pride and identify of Africa and Africans, and promote diversity and balance in media reporting. AfricaWorld News was formally launched on May 7, 2011 at the Irish Writer Centre in Dublin, Republic of Ireland.