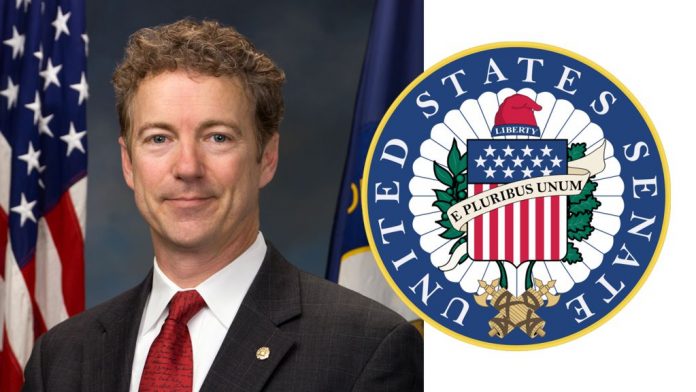 Dr. Rand Paul Reintroduces the REINS Act for 2021
WASHINGTON, D.C. – Yesterday, U.S. Senator Rand Paul (R-KY) and 24 cosponsors reintroduced the Regulations from the Executive in Need of Scrutiny (REINS) Act to help put power back in the people's hands instead of unelected bureaucrats.
Cosponsors include Sens. Grassley (R-IA), Portman (R-OH), Rick Scott (R-FL), Rubio (R-FL), Inhofe (R-OK), Young (R-IN), Moran (R-KS), Rounds (R-SD), Cramer (R-ND), Blunt (R-MO), Ernst (R-IA), Sullivan (R-AK), Blackburn (R-TN), Toomey (R-PA), Sasse (R-NE), Lee (R-UT), Cassidy (R-LA), Marshall (R-KS), Braun (R-IN), Cruz (R-TX), Johnson (R-WI), Risch (R-ID), Crapo (R-ID), and Hyde-Smith (R-MS).
"For too long, an ever-growing federal bureaucracy has piled regulations and red tape on the backs of the American people without any approval by Americans' elected representatives," said Dr. Paul. "By making Congress more accountable for the most costly and intrusive federal rules, the REINS Act would give Kentuckians and citizens throughout the country a greater voice in determining whether these major rules are in America's best interests."
"Unelected bureaucrats in Washington have far too much unaccountable power over the American people. The REINS Act would give Congress the authority to reject any federal government regulation with costs over $100 million, thus giving Americans an important check on federal regulators," said Senator Mike Lee.
"We've already seen this new administration is full steam ahead on enacting their radical agenda through executive action. The REINS Act is a common-sense piece of legislation that would ensure Congress has a say in any new major regulation that would have a significant economic effect of $100 million or more. We must ensure that unaccountable and unelected regulators do not hamper our economy with burdensome regulations as we try to come back from the hardship caused by the outbreak of the coronavirus," said Senator Roger Marshall, M.D.
"The rise of the administrative state cannot go unchecked. When agency rule makers bypass Congressional review, the agenda of unelected bureaucrats dominates over the interests of American businesses and workers. This legislation will ensure greater accountability for executive rulemaking at time when agencies are growing especially emboldened to flex their regulatory powers." said Senator Blackburn.
"We have made significant progress reining in costly, job-killing regulations since I first introduced the REINS Act in the House eight years ago, but as we enter a new administration, it is more important than ever that we pass this legislation," said Senator Young. "Congress must play a role in approving major federal rules and regulations to ensure Americans' best interests are being considered by elected officials who can be held accountable, not just unelected bureaucrats in Washington."
"In recent decades Congress has largely abdicated its duty and deferred major policy decisions to federal agencies and the unelected bureaucrats who run them. This has created significant problems for our constituents and made Washington less accountable to the people we serve," said Senator Cramer. "The REINS Act gives Congress more authority over the decisions made by the bureaucracy and will spur Congress to write better bills."
"For far too long I have said we must not only cut through the red tape, but also ensure those in the Executive Branch are held to the highest level of transparency and accountability," Senator Inhofe said. "With the REINS Act, Congress would have a voice in approving major rules created by the Executive Branch. It's past time we rein in unelected government officials, so that we can reduce the harmful effects of their overregulation."
"Regulatory agencies play an important role in executing the laws Congress writes, but for too long, Congress has ceded too much authority to the agencies. I am pleased to support the REINS Act, which would help restore Congress to its appropriate place in the lawmaking process by ensuring it has the chance to review the most significant and costly regulations," said Senator Portman.
The bill defines a "major" rule as one that the Office of Management and Budget determines may result in an economic impact of $100 million or greater each year; "a major increase in costs or prices" for American consumers, government agencies, regions, or industries; or "significant adverse effects" on the economy.
Under the REINS Act, once major rules are drafted, they must then be affirmatively approved by both chambers of Congress and then signed by the President, satisfying the bicameralism and presentment requirements of the Constitution. Currently, regulations ultimately take effect unless Congress specifically disapproves.
You can read the bill—S. 68 in the 117th Congress below.
The REINS Act 2021 PDF
REINS-Act-2021

Congresswoman Kat Cammack (R-FL-03) Announces Introduction Of REINS Act During The 117th Congress
WASHINGTON, D.C. – Today, Congresswoman Kat Cammack announced the introduction of the Regulations from the Executive In Need of Scrutiny (REINS) Act of 2021.
This bill would reassert Congress' legislative authority and prevent excessive overreach by the executive branch in the federal rulemaking process. It would require every new "major rule" proposed by federal agencies to be approved by both the House and Senate before going into effect. The bill would also preserve Congress' authority to disapprove of a "nonmajor rule" through a joint resolution.
For too long, and under multiple administrations regardless of party, the executive branch has siphoned lawmaking authority away from the Congress. "The REINS Act is a measure that ensures Congress is the only lawmaker in the United States. This bill reasserts Article I authority that vests all legislative power in Congress and provides necessary oversight of the executive rulemaking process," said Cammack of the new bill.
The REINS Act would define a "major rule" as any federal rule or regulation that may result in: an annual effect on the economy of $100 million or more; a major increase in costs or prices for consumers, individual industries, government industries, government agencies, or geographic regions; or significant adverse effects on competition, employment, investment, productivity, innovation, or the ability of U.S.-based enterprises to compete with foreign-based enterprises.
"Advocates of limited and accountable government thank Rep. Cammack for her leadership in introducing the REINS Act. Oversight of the executive branch is one of the most serious ways that Congress must reassert its constitutional authority," said Adam Brandon, President of FreedomWorks. "Article I, Section 8 of the Constitution vests Congress with the explicit power to 'make all laws,' yet over time, Congress has ceded this authority overwhelmingly to a unilaterally-acting executive branch. This only threatens to become a larger problem as President Biden's regulatory agenda looms over our nation, and leaders in Congress are needed now more than ever to hold unelected bureaucracy accountable."
"The Constitution asserts the legislative branch's authority to make laws. We have to hold every presidential administration responsible for the rulemaking process regardless of party," noted Cammack. "It's about making sure the executive branch does not unduly overstep its vested authority through a necessary system of checks and balances."
At the time of its introduction, the REINS Act of 2021 included over half of the Republican Conference as original cosponsors. Senator Rand Paul introduced the identical Senate version of this bill as S. 68 on January 27,2021.
Original cosponsors include: House Judiciary Committee Ranking Member Rep. Jordan and Reps. Armstrong, Arrington, Babin, Bacon, Balderson, Banks, Barr, Bentz, Bergman, Bice, Biggs, Bilirakis, Bishop, Boebert, Bost, Brady, Buchanan, Buck, Bucshon, Budd, Burchett, Burgess, Carl, Carter, Cawthorn, Chabot, Cline, Cloud, Clyde, Crenshaw, Davidson, Davis, Donalds, Duncan, Dunn, Emmer, Fallon, Feenstra, Fischbach, Fulcher, Gaetz, Garbarino, Gibbs, Gimenez, Gooden, Graves, Greene, Hagedorn, Harshbarger, Hern, Herrell, Hinson, Hudson, Issa, Jackson, M. Johnson, D. Johnson, Joyce, T. Kelly, LaMalfa, Lamborn, LaTurner, Lesko, Lucas, Mace, Mann, Massie, Mast, McClain, McClintock, McKinley, McMorris Rodgers, Miller, Miller-Meeks, Mooney, Barry Moore, Murphy, Nehls, Newhouse, Norman, Owens, Palmer, Perry, Pfluger, Posey, Reschenthaler, Rogers, Rosendale, Rouzer, Roy, Rutherford, Scott, Adrian Smith, Smucker, Spartz, Steel, Steube, Taylor, Tenney, Thompson, Tiffany, Van Drew, Van Duyne, Walberg, Walorski, Weber, Williams, Wilson, and Wittman, Young.
###