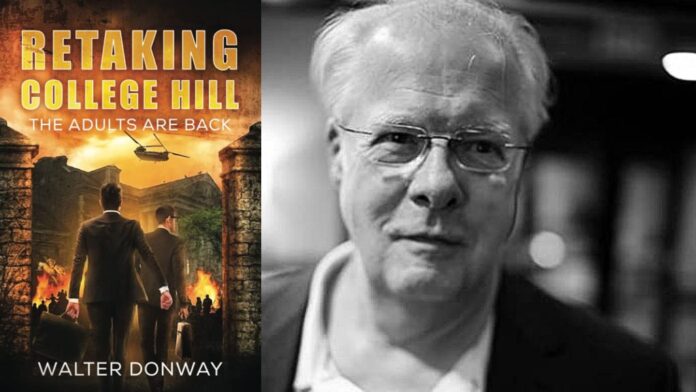 Impassioned, intellectual, and intense.

All who see the university as the battleground for our future will live this novel page by page.

A literary philosophical thriller.

Unprecedented for new adult and college fiction!

By Walter Donway
In Retaking College Hill, Damian Kossak returns to his famous Ivy League alma mater after three years in the Navy and finds a university trashing its mission and standards. Crossing the college green, he barely avoids a violent encounter with students enforcing agreement with "climate change." His father, the dean of the college, is being "brought up on charges" of interfering with the "diversity" admissions machine.
Soon, Damian and a few allies—his father, his former philosophy professor, his Navy SEAL buddy, and a wildly sexually uninhibited Israeli girl—are battling on every front:
Bullying by students.
Racial quotas that favor Black applicants over Asian and white applicants.
Intimidation of politically incorrect faculty members.
Jettisoning the study of Western civilization and achievements.
New courses in "victimology."
Things quickly become dangerous in this domestic thriller
The university Damian still revered just three years ago is collapsing into dogmas of postmodernist philosophy, political correctness, and righteous violence against dissent. Faced with Damian, his father, and his other allies, the opposition turns to destroying reputations, the campus free speech movement collapses into violence, and, finally, an assassination attempt. The campus underground splits open for a postmodernist Walpurgis Night.
But…it is still 'homecoming'
Damian's passion for philosophy, for his faculty mentor, Bill Dyson, and what the university has meant to him, make his homecoming exciting. So does Jessica, the orphaned Israeli girl with the straight-A record, who struggles to understand where passion ends, and promiscuity begins in this aching college romance.
Damian's new buddy, the Navy SEAL Jules—even as he saves the day for a courageous woman who comes to try to speak on campus—shocks Damian with tactics and affairs. Individuals with true passions, seemingly in conflict, see the importance of what they share. It is a theme of Retaking College Hill" that lifts our spirit, promises a better future, even amidst seemingly irreconcilable, bitter conflicts. This is a wholly different kind of campus liberation.
The violence takes its tragic toll for Damian in a wild climactic motorcycle gang attack. But other battles are won.
One victory is the answer to this question: Should America's great entrepreneurs and other creators of wealth, under sniper attack by the leftist professoriate, keep signing big checks for the university and leaving the ideas to the professors?
Deliverance
For Damian and his allies in Retaking College Hill to pose that question to the beautiful, wealthy daughter descended from the University's founder promises ultimate "deliverance." This is for once a novel about a college uprising that ends with answers.
It is a crucial insight, and step, in reclaiming the University's essential and enduring mission from the professoriate of Postmodernism and students who all-too-often have become their tools.
Retaking College Hill is about what might and ought to happen today on America's campuses. Literary and philosophical in its style and depth of ideas, it is also a thriller and a moving romance
The drama of Retaking College Hill is unfolding today on American campuses. It is the story of today's heroes, their ideas and loves, and the personal price they pay.

It is an honest look at your college, today—or at your alma mater.
Author Biography
Walter Donway: His Books and the Biography
Walter Donway gives readers fiction in the great Romantic tradition of thrilling plots, sharply delineated heroes and villains, racy and intelligent dialogue, and robust literary style. His latest novel, "Retaking College Hill," highlights another side of his fiction: characters and conflicts that driven by a clash of ideas in the tradition of Fyodor Dostoevsky and, in our time, Ayn Rand. Readers care about the values and convictions of the men and women who ally themselves against the worst trends of the contemporary university.
In his non-fiction, takes on the world of ideas politics and economics, contemporary elections, and philosophy. His memoirs of growing up in a vanishing rural New England, and working as a young reporter in Worcester, Massachusetts, are as personal, poignant, and revealing biography can get. He looks at a region, a culture, and a moment in history in all of their dimensions–everything that makes for the complexity of a city.
And last, but far from least, his three collections of poetry give readers the enjoyment of the timeless values of metrical verse, rhyme, story telling, drama, and intense lyricism.
Dipping into politics
In 1998, famous New York Times political columnist and expert commentator on language, William Safire, then also a Dana Foundation trustee, tapped Walter Donway to create and edit Cerebrum: The Dana Forum on Brain Science—now in its 23rd year. Safire explained to the Foundation's financial vice president, Burton Mirksy, "He's a wordsmith." And then, in typical Safire fashion, cracked, "And he's also a Right-winger!"
The moment and the comment, captured a great deal about Donway, and, of course, left out still more. He had been active in political campaigns as a citizen, and as a writer, since 1964, when he worked as an organizer for Republican candidate, Barry Goldwater, during his sophomore year at Brown University. In campaigns after that, he was never as enthusiastic—and some-times didn't even bother to vote.
Far more than a "Right-winger," he was a genuine intellectual drawn to the powerful philosophical revolution launched by Ayn Rand with her novel, Atlas Shrugged, and a dozen books on epistemology (the theory of knowledge), ethics, politics, and aesthetics that followed until her death in 1982. Her philosophy of "Objectivism," primarily a historic defense of reason, individualism, and laissez faire capitalism, brought into existence the modern libertarian movement and Libertarian Party politics. Rand herself had no patience with any libertarian politics not rooted in the fundamentals of philosophy, including the relationship between reason, inalienable individual rights, and capitalism.
Publishing and real jobs
By then, Donway had published dozens of articles and essays for publications receptive to the libertarian point of view, including as a columnist for Private Practice, journal of the Congress of County Medical Societies, and Human Events, the renowned feisty Washington, D.C., weekly paper of conservative opinion edited by Tom Winters. At that time, Human Events was almost alone on the media scene as a critic of liberal-leftism and advocate of capitalism. At the same time, though, he published the lead op-ed article in the Wall Street Journal "In Defense of Decades of Greed," solicited by WSJ editorial page editor, Robert Bartley.
When accused of "not looking at the other side," Donway points out that all his professional positions, as an executive at Brown University, the Commonwealth Fund (the country's earliest major foundation devoted to experimentation with health care programs and medical education), and the Dana Foundation were with "certified East Coast Liberal institutions." He says, "from 1969 until my retirement in 2004, I was a fixture of the Liberal-Left intellectual bureaucracy. Don't tell me I need to be exposed to that viewpoint!"
The world of Ayn Rand's philosophy
But he encountered little to refute—or even seriously challenge—the philosophy of Objectivism. The real reform that called to him was of Objectivism itself, which had become cultish, intolerant, and closed to change. It was not unusual—closer to typical—for a powerful new philosophy that set itself against the verities, assumptions, and dogmas of its time. In 1990, David Kelley solicited Donway as one of the first trustees of the new "Institute of Objectivist Studies"—today, the Atlas Society, which states its mission as "Open Objectivism." For some two decades, he helped to set the philosophical direction of the organization, editing its first publication and contributing dozens of articles and lectures on every aspect of the philosophy and its application to contemporary questions.
Publishing
Turning to full-time writing in 2004, he created the publishing imprint, Romantic Revolution Books, recognizing Ayn Rand's powerful case for the nature of art and its importance to man's life. He has written and published six novels, three books of poetry, and two full-length memoirs under that imprint. His book, Not Half Free: The Myth that America is Capitalist, charted the steep decline in American economic freedom beginning with the financial panic and stock-market crash of 2007-2009. He has written two books explaining the significance of President Trump.
He lives in East Hampton, New York, with his wife, Robin. His son, Ethan, also a writer, lives in Brooklyn.
Reviews
This is a fast-moving story set on the campus of an Ivy League college. The main characters are people who want to promote reason and freedom of thought, but the left-leaning protest movement has taken a murderous turn, and our heroes find themselves scrambling to protect both the college and their own skins. Situations and characters are vividly drawn. ~ John J. Enright