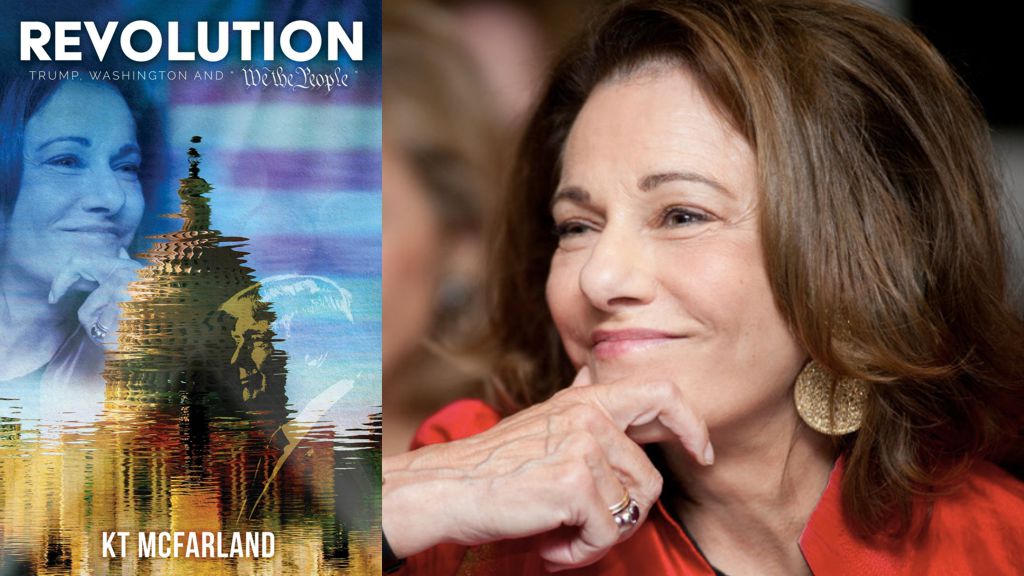 When Trump's first Deputy National Security Advisor left Washington, she disappeared from sight. Now former government official and political commentator KT McFarland returns with tenacity, resolve, and the truth about the Trump Administration and those seeking to destroy it.
For decades, KT McFarland has been one of the country's most prominent conservative foreign policy experts. She was part of the Trump Revolution from the beginning. As Trump's first Deputy National Security Advisor, she had a seat at the table for everything: Trump's unconventional campaign and upset victory; his throw-out-the-rule-book Trump Tower Transition; the chaotic first months in the West Wing; the unusual events surrounding General Flynn's firing; and the sprawling Mueller investigation.
In Revolution, she walks the reader through the Washington Establishment's relentless efforts to destroy Trump, populism, and nationalism in order to keep their own hands on the levers of power. The Trump Revolution, like the Reagan Revolution and all the anti-Establishment political revolutions before it, will ultimately prevail. It is this ability to reinvent ourselves, not just as individuals but as a society, that lies at the heart of American Exceptionalism.
When McFarland left the Trump Administration and Washington, she disappeared from public view and refused to discuss her experiences. Now, for the first time, McFarland tells a story that reads more like a political thriller than a tour through this unique moment in history. Written with unusual candor, with insights into Trump and his inner circle, Putin, Xi Jinping, and Kim Jong-un, McFarland's book is destined to become a classic.
If you only read one book about the Age of Trump, make it Revolution: Trump, Washington and "We the People."
Editorial Reviews
Review
"KT McFarland's foreign policy experience spans decades. She was a junior aide to Kissinger, a foot-soldier in the Reagan Revolution, and a national security and foreign policy leader of the Trump Revolution. Her insights into American national security—past, present and future—are indispensable." — Former Senator Joseph Lieberman
"KT McFarland has personal insider knowledge of how big the fight for freedom is and how dangerous the opponents of freedom both inside the United States and outside are to all of us. An Important testimony to the great struggle of our times." — Newt Gingrich, Former Speaker of the House
"Over the years KT McFarland has had the courage to challenge conventional wisdom on foreign policy, and has almost always been right. In this book she sounds the alarm about the strategic, technological and economic threats posed by an aggressive, rising China, and lays out what America can do about it." — Matt Schlapp, Chairman of American Conservative Union
"KT McFarland is an exceptional student, writer, and professional warrior. She had the extraordinary experience of learning from the masters of foreign policy and defense in the Nixon and Reagan presidencies, Secretary of State Henry Kissinger, and Defense Secretary Cap Weinberger and the others that mattered. She's a pro's pro! She watched it up close; learned the lessons of diplomacy, both the successes and the failures, and was prepared to offer that experience to the new Trump White House. She now shares those lessons with you the reader. If 'in the room decision making' interests you, this is a must read!" — Ed Rollins, Former White House Assistant to President Reagan, National Campaign Director Reagan-Bush '84
"KT McFarland has been focused on the national security interests of the United States since her time as a young aide to Dr. Henry Kissinger. She has never stopped studying how to protect the U.S. since that time, through her time advising President Trump's 2016 campaign and setting up its national security shop and in her distinguished media career before and after. Now comes her account of the 'Revolution' we are all living through. 'The Washington elites were stunned by Trump's victory,' McFarland writes in the opening pages of this eyewitness account. If they want to get over their shock while also recognizing the growing perils to the country from abroad, this timely important book is the place for them—and all Americans—to start." — Hugh Hewitt, Nationally Syndicated Radio Talk Show Host, President of the Richard Nixon Foundation
"KT McFarland has been at the center of Republican foreign policymaking for decades, starting in the 1970s when she first worked on the National Security Council, continuing through the Reagan Administration, Fox News, and then as President Trump's first Deputy National Security Advisor. Well written and perceptively argued, Revolution provides interesting insights into the beginning stages of Trump's foreign policy and the reasoning behind it."

  — Henry A. Kissinger, Former Secretary of State
About the Author
The Hon. Kathleen Troia "KT" McFarland is one of the country's most prominent conservative foreign policy experts. She was President Trump's first Deputy National Security Advisor and helped turn Trump's campaign promises into his America First foreign policy. Prior to joining the Trump Administration, she was FOX News' National Security Analyst. McFarland appeared regularly on all FOX and FOX Business News programs, hosted FOXNews.com's "DEFCON3," and wrote a regular column for the FOX Opinion page.

McFarland held national security posts in the Nixon, Ford, and Reagan Administrations, including as an aide to Dr. Henry Kissinger on the National Security Council. She received the Defense Department's highest civilian honor, the Distinguished Service Award, for her work in the Reagan Administration. She is an alumna of George Washington University (BA), Oxford (MA), and Massachusetts Institute of Technology PhD program (all but dissertation).