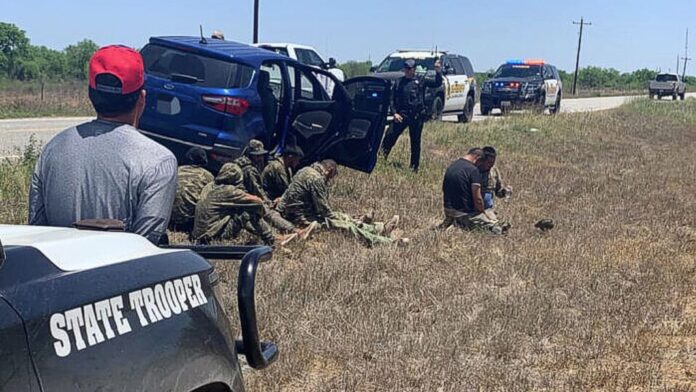 A Honduran woman's body was found dumped in the brush on private property in Goliad County, Texas, after she had been smuggled hundreds of miles north from the border in March, according to county Sheriff Roy Boyd. In another case, an old shed on a ranch was being used to strip stolen vehicles in preparation for smuggling people.
Boyd says the county—which sits about 200 miles north of the U.S.–Mexico border—is used as a staging area for smuggling illegal aliens to Houston.
"What happens is they'll bring them up from the border to somewhere in this area. They'll drop them off at a temporary holding site and then someone from Houston comes and picks them up and then takes them to Houston, where they're distributed across the United States," he said.
Goliad County, with a population of 7,600, is one of four Texas counties that issued local states of disaster last week due to the impact of the border surge. Three of the counties are located 40 to 200 miles north of the border but are dealing with cross-border crime and human smuggling every day.
In their declarations, each of the counties—Kinney, Goliad, La Salle, and Atascosa—said the "health, life, and property" of their residents are "under imminent threat of disaster from the human trafficking occurring on our border with Mexico."
Border Patrol agents apprehended more than 76,000 illegal aliens along the U.S.–Mexico border in the first two weeks of April. In addition, the average number of illegal aliens who evade capture is about 1,000 per day.
"The ongoing border crisis has resulted in thousands of illegal aliens invading South Texas and overwhelming our local, state, and federal law enforcement," the Goliad County declaration reads.
"This continual violation of our sovereignty and territorial integrity has resulted in residents of South Texas being assaulted, threatened with violence, and robbed, while also sustaining vast amounts of property damage."
Read Full Article on The EpochTimes.com