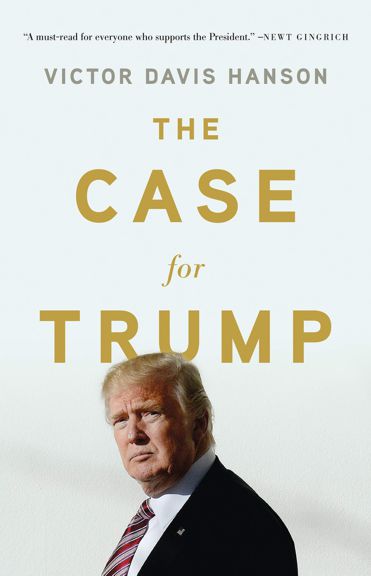 In the above video recorded on March 18, 2019 at a Reagan Forum, John Heubusch, Executive Director of the Ronald Reagan Presidential Foundation and Institute, discusses with Victor Davis Hanson, Hanson's book The Case for Trump.
From an award-winning historian and regular Fox contributor, the true story of how Donald Trump has become one of the most successful presidents in history — and why America needs him now more than ever
In The Case for Trump, award-winning historian and political commentator Victor Davis Hanson explains how a celebrity businessman with no political or military experience triumphed over sixteen well-qualified Republican rivals, a Democrat with a quarter-billion-dollar war chest, and a hostile media and Washington establishment to become president of the United States — and an extremely successful president.
Trump alone saw a political opportunity in defending the working people of America's interior whom the coastal elite of both parties had come to scorn, Hanson argues. And Trump alone had the instincts and energy to pursue this opening to victory, dismantle a corrupt old order, and bring long-overdue policy changes at home and abroad. We could not survive a series of presidencies as volatile as Trump's. But after decades of drift, America needs the outsider Trump to do what normal politicians would not and could not do.
Editorial Reviews
Review
"I come across books now and then, and I heartily recommend those I really like. But I'm just flat-out telling you to get this one. If you believe in Donald Trump, if you believe in the whole 'Make America Great Again' agenda, if you want to read some of the most intelligent defense of Trump, the most intelligent defense and explanation of Trump's agenda…the book is tremendous…. If you love Trump and if you're looking for ways to help other people who don't understand Trump to understand, this book is gonna be ideal."―Rush Limbaugh

"As a great historian, Victor Davis Hanson makes the case for President Trump with unique insights and historic understanding and clarity. A must-read for everyone who supports the President or wants to understand this moment in history."―Newt Gingrich

"A brilliant and bracing analysis from one of the great thinkers and writers of our time, and a farmer to boot – Victor Davis Hanson. Hanson understood the circumstances that gave rise to Donald Trump early on, how the president has made long overdue changes, and why his enemies seek to destroy him."―Mark R. Levin

"Hanson is shrewd and insightful on Trump's appeal… one of the smartest conservative defenses of Trump yet published."―Publishers Weekly

"A well-researched explanation of how Mr. Trump beat all odds to win the presidency, and also an account of his first two years in office."―Washington Times

"Hanson sets out calmly, cogently, urgently a corrective to the anti-Trump hysteria."―The Times (UK)

"A necessary and important addition to the already existing body of literature on why and how President Trump defeated first his Republican rivals and later Democratic candidate Hillary Clinton… a timely and revealing book."―Washington Book ReviewRead less
About the Author
Victor Davis Hanson is a senior fellow in military history at the Hoover Institution at Stanford University and a professor emeritus of classics at California State University, Fresno. He is the author of more than two dozen books, ranging in topics from ancient Greece to modern America, most recently The Second World Wars: How the First Global Conflict Was Fought and Won. He lives in Selma, California.