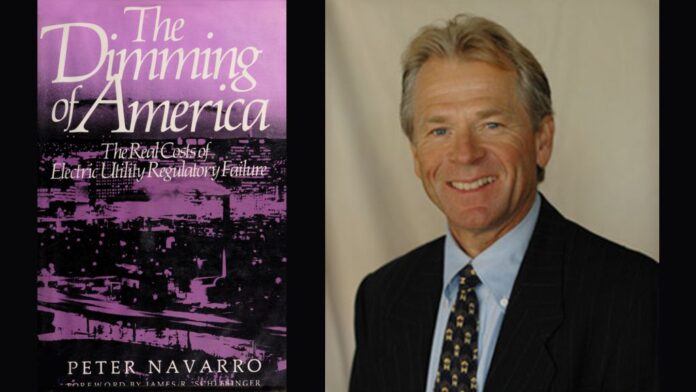 Written by Peter Navarro, of the John F. Kennedy School of Government's Energy and Environmental Policy Center, The Dimming of America deals with the current and future economic well being of the electric utility industry, and the impact of that economically distressed industry on the long-term economic well being of the nation at large.
In Mr. Navarro's own words, the book is intended to be an "indictment" of the regulatory process a process which, according to Mr. Navarro, continues to suppress utility rates with the result that utility executives are foregoing necessary capital investment, to the long-term detriment of consumers, shareholders, national security and overall national economic interests. Mr. Navarro hopes that his book will provide a blueprint for conservative policy reforms designed to prevent the "dimming of America."
From a Review by Robert A. O'Neil
Biography
Peter Navarro is a Harvard Ph.D. economist and professor of public policy at the University of California, Irvine. His latest book Death By China is a sequel to his best-selling book The Coming China Wars and is now a documenatry film (www.deathbychina.com).
In addition to his work on China, Professor Navarro has written numerous books on strategically managing the business cycle from both an executive and a stock trading point of view. His books include: "The Well-Timed Strategy," "Always a Winner," "If It's Raining in Brazil, Buy Starbucks," "What the Best MBAs Know," and "When the Market Moves, Will You Be Ready?"
A widely sought-after and gifted public speaker, Professor Navarro has appeared frequently on Bloomberg TV, CNN, CNBC, NPR, and all three major network news shows as well as 60 Minutes. Navarro's articles have appeared in a wide range of leading publications, including Barrons, Business Week, Harvard Business Review, The New York Times, The Wall Street Journal, and Sloan Management Review. His weekly newsletter on the economy and stock market is distributed widely and is available to the public at www.peternavarro.com.