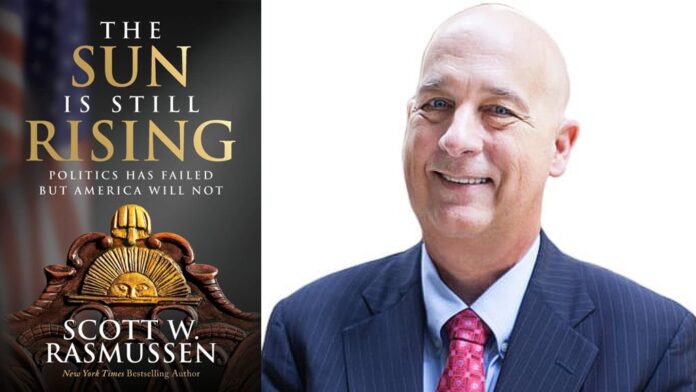 Like many Americans, political analyst Scott W. Rasmussen believes our nation's political system is broken. However, his research has left him optimistic about America's future. The Sun Is Still Rising clearly demonstrates that America's best days are still ahead and that governing involves more than government and politics.
About The Author
Scott Rasmussen is a Senior Fellow for the Study of Self-Governance at The King's College in New York City. He is also editor at large at Ballotpedia, the Encyclopedia of American Politics.
A familiar face on television news programs, Rasmussen spent two decades as one of the world's leading public opinion pollsters. The Wall Street Journal called him "a key player in the contact sport of politics." The Washington Post said Scott is a "driving force in American politics."
Every weekday, in partnership with Ballotpedia, Rasmussen releases "Scott Rasmussen's Number of the Day." The feature highlights newsworthy and interesting topics at the intersection of politics, culture, and technology.
At King's, Rasmussen is guiding the development of an Institute for Community Driven Solutions. That Institute grew out of the message from this book, Politics Has Failed: America Will Not.
Like most Americans, Rasmussen believes our nation's political system is badly broken. Unlike most, however, he is decidedly optimistic about America's future. His book reminds us that governing involves far more than government. In fact, every organization and relationship has a vital role to play in governing society. It's not about politics. It's about figuring out the best way we can work together to find solutions.
A serial entrepreneur, Scott is the founder of Rasmussen Reports, co-founder of ESPN, a New York Times bestselling author, public speaker, and a syndicated columnist. Scott did his first radio commercial at the age of 7 and made his national television debut at 20. A career highlight was serving as emcee for hockey legend Gordie Howe's 50th birthday celebration. Howe was Rasmussen's childhood idol.
Rasmussen graduated with a degree in history from DePauw University and earned his MBA at Wake Forest University.