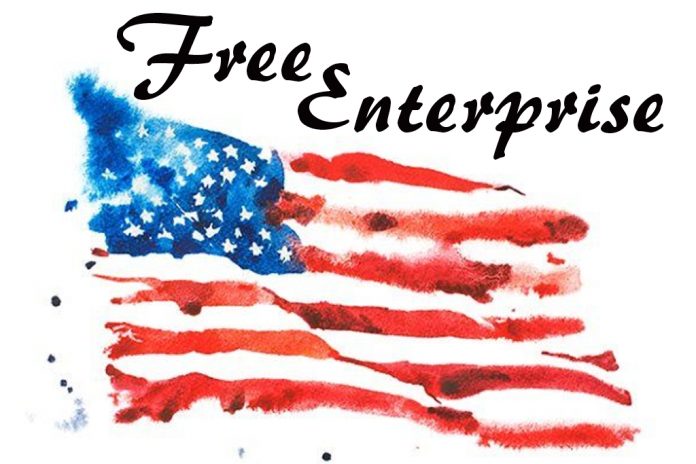 There's no doubt it's been a rough few years for free enterprise in the United States. The financial crisis that began in 2007 is still a drag on the economy, and for every sign of recovery there's another dark cloud on the horizon. Entrepreneurs are unsure about the future and skittish about investing their time, treasure, and talent in growing their businesses, much less starting new ones. President Obama's stimulus package was a dud, and the unemployment rate today is 50 percent higher than what he promised would be the worst-case scenario.
It's easy to get discouraged. But we cannot afford to be defeatist—or be defeated. Principled advocates of free enterprise have to redouble our efforts to make the case for free enterprise and confront its detractors with the truth. This means we have to explain in clear and unambiguous terms why free enterprise matters to the United States.
It might seem that the best case for free enterprise is the material one. Free enterprise lets people make more money, buy more and nicer stuff, and have a greater degree of comfort. The freer our economy is, the more competitive the US economy is vis-à-vis the rest of the world. And so on.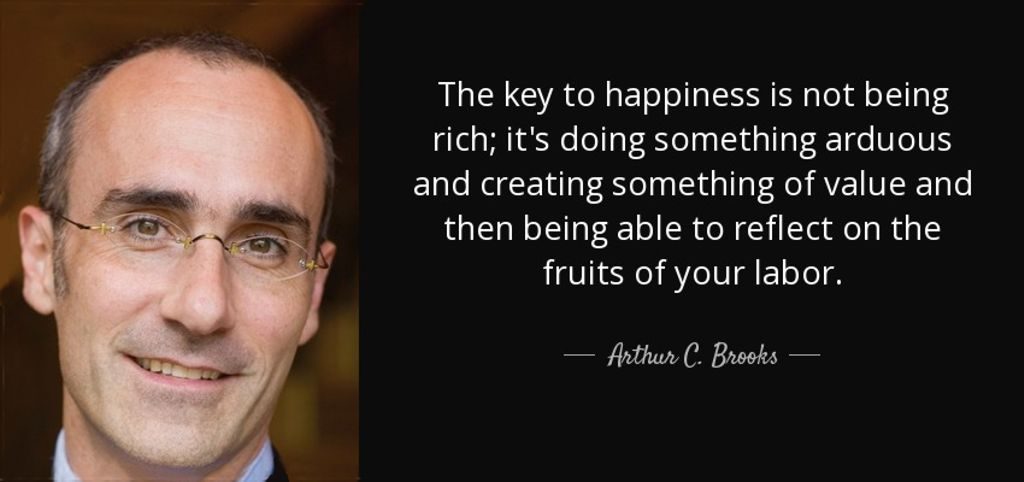 But these aren't our best arguments. There is another reason, a transcendent reason, for which free enterprise matters most—and this is the case we all must be able to make today.
We all learned early on in school that the Declaration of Independence claimed for each of us the unalienable right to "life, liberty, and the pursuit of happiness." Note that the founders didn't assert a right to be happy; such is the domain of tinpots and crackpots, of 1984's "Ministry of Plenty" and Josef Stalin's aggrandizing self-description as the Soviet Union's "Constructor of Happiness." So what, in practice, does this right to pursue happiness mean?
It means the right to define and earn our happiness through our ideas, hard work, and gumption, to earn our success by creating value honestly, in our own lives and in the lives of others. It doesn't mean the pursuit of a big lottery win or an inheritance. Those bring money, but not happiness. And a mountain of evidence shows that after a fairly low threshold, more money doesn't make us happier.
The best case for free enterprise has nothing at all to do with money or material goods or wealth. Those are just icing on the cake. We must stop talking about free enterprise as just an engine of wealth creation. It's much more than that.
In short, the secret to the pursuit of happiness is earning our own success; creating value with our lives and in the lives of others. This earned success is the fruit of hard work and just rewards in a system built on merit. Only in a free enterprise system is effort and innovation rewarded over connections and predation. (And this means that we have to draw a distinction between free enterprise, which is based on opportunity and competition between ideas, and corporate cronyism, which is just another form of statism masquerading as free enterprise.)
Of course, none of this is new to free enterprise advocates. Most of us have known our whole adult lives that an enterprise society provides the greatest freedom and opportunity for people, not just in material ways, but by allowing us to give our lives meaning and purpose. Yet we've shelved transcendent arguments and devoted far too much time and effort to making arguments about efficiency—arguments our opponents largely accepted (or at least stopped trying to refute) over a decade ago.
Instead, we have allowed the enemies of free enterprise—the statists, the redistributionists, the folks for whom every problem is a government program waiting to be enacted—to claim the mantle of fairness and the moral high ground for their discredited ideas. That needs to change. After all, Adam Smith wrote his Theory of Moral Sentiments two decades before The Wealth of Nations. Efficiency came after morality, not vice versa.
It is time to contest the moral high ground. In order to win the fight for free enterprise against its opponents who are once again beating the drum to turn America into some sort of Anglophone Sweden (or Greece), we have to follow Smith's lead. We have to make the case for free enterprise and economic growth from a moral perspective, using language about opportunity and happiness and living a meaningful life. We have to explain how the pursuit of happiness requires the opportunity to earn our success, and how earned success comes only when we succeed on our own terms.
The statists preach a crass, shallow gospel of materialism. We cannot defeat them by merely responding with claims about economic efficiency. We can win the battle for free enterprise in the United States. But we have to say what is written on our hearts, not just on our bank statements.
Republished from the U.S. Chamber of Commerce's Free Enterprise