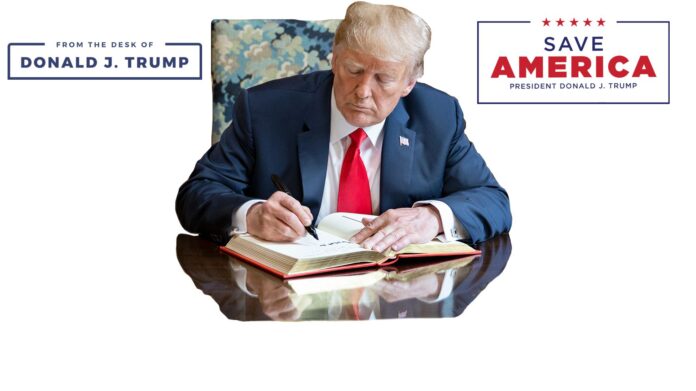 Former President Donald Trump issued a statement on May 31 following reports that an alarm had went off at a Fulton County ballot storage warehouse and the facility had been left "wide open and unattended."
Newsmax's Emerald Robinson reported on May 30 that an attorney dealing with the Fulton County audit of more than 145,000 ballots from the 2020 presidential election said an alarm had sounded at the building where ballots were kept.
The attorney reportedly sent Robinson a photograph of "the door left open at the supposedly secure building [where] the ballots are being kept." Robinson shared the image on Twitter.
"Two Fulton County deputies who were assigned to watch the secure building where the ballots were being kept appear to have left the building 20 minutes before the alarm went off," Robinson wrote on Twitter.
The attorney didn't respond to a request for comment. A Fulton County spokeswoman told The Epoch Times in an email that the security alarm was activated at the warehouse on May 29.
"The matter is currently under review by the Fulton County Sheriff's Office. We are confident that the ballots at the warehouse have been secure at all times," she said.
Henry County Superior Court Judge Brian Amero had ordered Fulton County to guard the facility at all times beginning on May 25, according to Garland Favorito, a plaintiff in the case.
"Great work is being done in Georgia revealing the Election Fraud of the 2020 Presidential Election. But, we must not allow ANYONE to compromise these ballots by leaving the building unsecured, which was done late Friday," Trump wrote in his statement responding to the reports. "Republicans and Patriots must protect this site and the Absentee Ballots. "The Left talks about election security but they do not practice what they preach because they are afraid of what might be found. Fulton County Leadership—do the right thing and protect these ballots. Our Country is at stake!"
Read Full Article on TheEpochTimes.com