Former President Donald Trump on May 31 said the legal system isn't working properly after a jury in Washington acquitted a former Hillary Clinton campaign lawyer who had been charged with lying to the FBI.
"Our Legal System is CORRUPT," Trump said in a post on Truth Social, adding that "our Judges (and Justices!) are highly partisan, compromised, or just plain scared" before lamenting that Michael Sussmann, the lawyer, was found not guilty.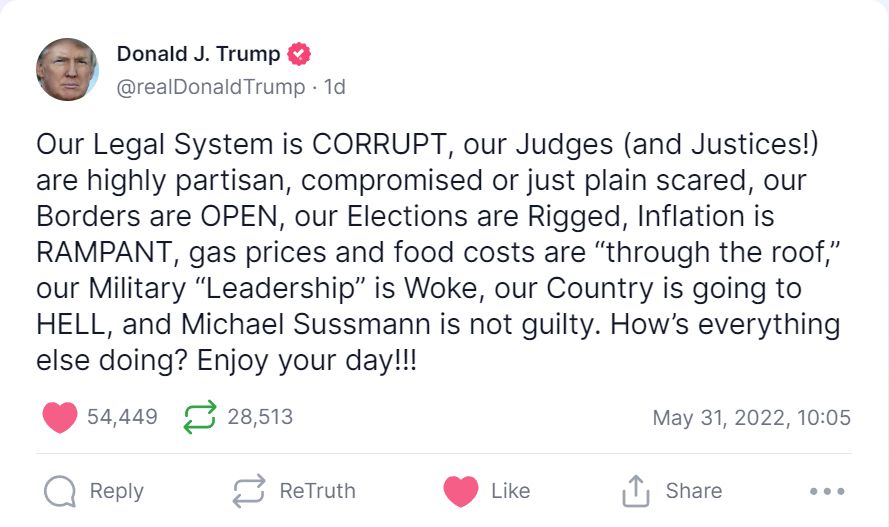 Jason Miller, a former Trump campaign aide, also reacted to the verdict, writing on Gettr that Sussmann admitted to giving opposition research to the FBI and not telling the bureau that the research was conducted for Clinton.
"How did Sussmann get off??? RIGGED SYSTEM!!!" Miller wrote.
Sussmann was accused of lying to the FBI because he said in writing that he wanted to meet with a bureau official to deliver information but that he was not acting on behalf of a client.
Prosecutors said Sussmann was acting on behalf of both the Clinton campaign and a client named Rodney Joffe, a technology executive who has said he was promised a position in the government if Clinton won the 2016 election.
The defense said Sussmann was not acting on behalf of a client, even though Sussmann previously told members of the House of Representatives under oath that he was. The defense also said that even if Sussmann was representing a client when he met with the bureau official, the statement was not material because the bureau was aware Sussmann represented the Democratic National Committee and other Democrat persons and entities.
Federal law prohibits making a false statement or representation to the government. The charge carries up to five years in jail, or up to eight years if the lie is related to international or domestic terrorism.
The jury unanimously found Sussmann not guilty.
"I don't think it should have been prosecuted," one juror told reporters. "There are bigger things that affect the nation than a possible lie to the FBI."
Read Full Article on TheEpochTimes.com