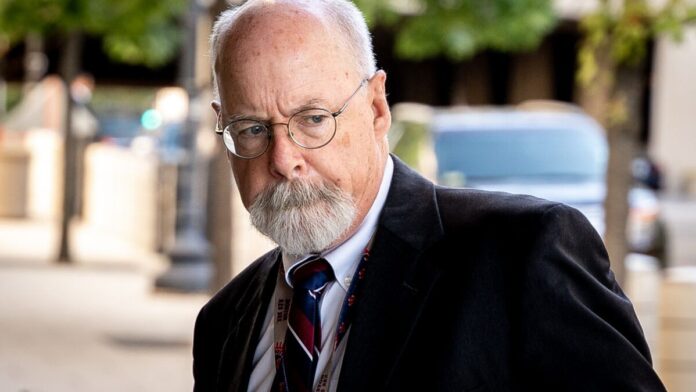 The trial of former Clinton campaign lawyer Michael Sussmann is coming to an end but rather than provide definitive answers to the origins of the Russiagate hoax, the trial has brought to light many new mysteries and unanswered questions.
Durham's overarching trial narrative was that the FBI was duped by Sussmann when he presented them with data purportedly tying Donald Trump to the Kremlin via the Russian Alfa Bank. It may have been Durham's only viable strategy, given the fact he was facing a jury of 12 Washington D.C. residents, a city where Democrats outnumber Republicans by 20 to 1.
This strategy did give Sussmann's team the opportunity to highlight serious misconduct by the FBI, with a flurry of new information about FBI malfeasance and abuses coming to light.
What does this all mean for Durham? Can he now do a U-turn and go after the FBI that he spent the past two weeks calling a victim? Can he go after Sussmann's associates such as tech executive Rodney Joffe? And what about Hillary Clinton, who we learned greenlighted the plan to vilify Trump?
The Danchenko Case
Durham's most immediate concern will be his second big case—that being against Christopher Steele's primary sub-source, Igor Danchenko.
Danchenko was indicted in November 2021 for lying to the FBI, the same type of charge that Sussmann faced. Specifically, Danchenko is alleged to have lied about his own sources, making up a conversation with Sergei Millian, a man he never met, and concealing from the FBI his conversations with Clinton operative Charles Dolan.
There are a number of crucial differences between Sussmann's and Danchenko's situations. Perhaps most importantly, Danchenko was charged in Virginia, not in Washington D.C. That means the jury pool will be more favorable to Durham.
Like Sussmann, Danchenko talked to the FBI in Washington but, unlike Sussmann, he later repeated his lies at his home in Virginia when the FBI came for follow-up interviews. That Durham chose to charge Danchenko in Virginia, where the lies were repeated, instead of in Washington where they were first told, gives us an insight into how Durham views the Washington jury pool.
The second big difference is that Danchenko is charged with five lies, not just one. In fact, an analysis of the only publicly available Danchenko interview transcript appears to show other lies. However, Durham charged just five, perhaps because he has audio recordings of those lies, which would be another difference between the Sussmann and Danchenko cases.
Lastly, Danchenko doesn't enjoy Democratic Party privilege. Sussmann is a high-powered, well-connected Democratic Party lawyer who represented Clinton and who himself is represented by a high-powered team of top lawyers.
By Hans Mahncke
Read Full Article on TheEpochTimes.com