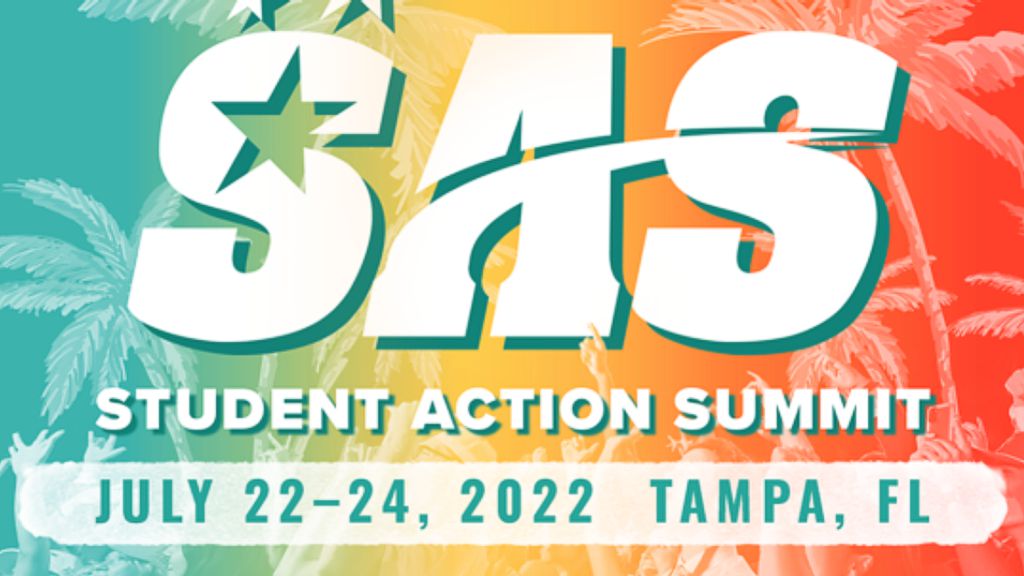 Turning Point USA's 8th annual Student Action Summit was held July 22nd through July 24th, 2022 in Tampa, Florida. Thousands of student activists between the ages of 15 and 26 were invited to attend. Students who attended this summit heard from guest speakers, receive first-class activism and leadership training, and participate in a series of networking events with political leaders and top-tier activist organizations. Following a TPUSA conference, these activists return to their campuses more energized than ever and with the proper tools and training on how to defend conservatism on their campus.

2022 SPEAKERS & SPEECHES
Day One Speakers Lineup (July 22, 2022)
Visit the Students Action Summit Website
Charlie Kirk: Charlie Kirk is the Founder and President of Turning Point USA, a national student movement dedicated to identifying, organizing, and empowering young people to promote the principles of free markets, and limited government.
Dr. Ben Carson: Ben Carson Sr. is an American retired neurosurgeon and politician who served as the 17th United States Secretary of Housing and Urban Development from 2017 to 2021. A pioneer in the field of neurosurgery, he was a candidate for President of the United States in the 2016 Republican primaries.
Senator Josh Hawley: Josh Hawley is an American conservative politician and lawyer who has served as the junior United States senator from Missouri since 2019. A member of the Republican Party, Hawley served as the 42nd attorney general of Missouri from 2017 to 2019, before defeating two-term incumbent Democratic senator Claire McCaskill in the 2018 election.
Senator Mike Lee: Elected in 2010 as Utah's 16th Senator, Mike Lee has spent his career defending the basic liberties of all Americans and advocating for our founding constitutional principles. Senator Lee acquired a deep respect for the Constitution early in life while watching his father, Rex Lee, serve as the Solicitor General under President Ronald Reagan.
Senator Ted Cruz: Throughout his life, Ted Cruz has proven to be a passionate and effective fighter for limited government, economic growth, and the Constitution. Senator Cruz has been serving Texas in the U.S. Senate since 2013.
Governor Ron DeSantis: Ronald DeSantis is an American attorney and conservative politician who has served as the 46th governor of Florida since 2019. Before assuming the governorship, DeSantis represented Florida's 6th district in the U.S. House of Representatives from 2013 to 2018.
Visit the Students Action Summit Website
Day Two Speakers Lineup One (July 23, 2022)
James O'Keefe: James O'Keefe founded Project Veritas and Project Veritas Action after he had pulled off some of the most consequential undercover journalism coups in a generation, so he could have an organization dedicated to reviving the craft of undercover journalism. These two organizations are non-profits dedicated to investigating corruption, dishonesty, waste and fraud in public institutions and the private sector.
Congressman Mark Green: Congressman Mark Green has represented the 7th District of Tennessee in Congress since January 3, 2019. It is the exact oath he first took as a cadet at West Point thirty years earlier. Green is a successful business leader, decorated combat veteran, ER physician, and former Tennessee State Senator.
Judge Jeanine Piro: Judge Jeanine Pirro is the host of the consistently highest-rated primetime weekend show, Fox News Channel's Justice with Judge Jeanine. Judge is also a legal commentator, author, champion of victim's rights and former District Attorney and County Judge.
Laura Ingraham: Laura Ingraham is the host of Fox News' The Ingraham Angle. In addition to her role at FNC, Ingraham is the host of her podcast, The Laura Ingraham Show. Prior to joining Fox, Ingraham served as a litigator and as a Supreme Court law clerk for Justice Clarence Thomas. Ingraham graduated from Dartmouth College and the University Of Virginia School of Law.
Senator Rick Scott: Rick Scott was elected to the U.S. Senate in 2018 and is currently serving his first term representing the state of Florida. Prior to his election to the U.S. Senate, Rick Scott served two terms as the 45th Governor of Florida, working every day to turn around Florida's economy and secure the state's future as the best place for families and businesses to succeed.
Congressman Eduardo Bolsonaro: Congressman Eduardo Bolsonaro of Sao Paulo is a Brazilian conservative politician, lawyer and federal police officer. He is the third child of Jair Bolsonaro, the 38th President of Brazil who won the presidency on a campaign of family values, individual freedom, and divorcing Brazil from malevolent international forces such as the governments of China and Venezuela.
Ari Fleisher: As former White House press secretary, Ari Fleischer was the primary spokesperson for President Bush. Since leaving the White House, Ari has run a communications company that helps corporations and sports organizations with their communication and media needs. He is also a contributor for both FOX News Channel and FOX Business Network.
Kat Timpf: Kat Timpf is a writer, television personality and comedian. She currently works as a Fox News contributor and the co-host of Gutfeld! on Fox News weeknights at 11pm. She was a columnist for National Review for nearly six years, and has also worked at Campus Reform, The Washington Times, Barstool Sports, Total Traffic Network, and of course, Boston Market
Panel: Hong Kong, Seattle, Phonex – Tales from Liberal Occupied Cities
Congresswoman Marjorie Taylor Greene: Marjorie Taylor Greene, also known by her initials MTG, is an American politician, successful businesswoman, and an America First conservative who has served as the U.S. representative for Georgia's 14th congressional district since 2021.
Benny Johnson: Benny is the Chief Creative Officer of Turning Point USA. He is obsessed with the intersection of politics, and culture. He believes conservatives deserve a better class of internet and sets out day-to-day creating one.
Congresswomen Lauren Boebert: Congresswoman Lauren Boebert is a conservative American political activist and a Member of Congress representing Colorado's Third Congressional District. She is a business woman, she and her husband own the Shooter's Grill. She is also the proud mother of four boys.
Congressman Matt Gaetz: Matt Gaetz, a member of the 118th Congress, is currently serving his second term in the U.S. House of Representatives. He is a member of the House Armed Services Committee and the House Judiciary Committee. His work in Congress focuses on national security, veterans' affairs, and adherence to constitutional principles.
Kimberly Gulifoyle: Kimberly Ann Guilfoyle is an American television news personality who also served as an advisor to Donald Trump. Guilfoyle studied at University of California, Davis, and the University of San Francisco and was a prosecuting attorney in San Francisco and Los Angeles, California.
Anthony Sabatini, Karoline Leavitt and Ana Paulina Luna
Anthony Sabatini: Anthony Sabatini is an American attorney and politician serving as a member of the Florida House of Representatives from the 32nd district. He is a conservative candidate in the 2022 U.S. House of Representatives elections in Florida for Florida's 7th congressional district.
Karoline Leavitt: Karoline Leavitt is currently a candidate for Congress in Congressional District 1. She is a Former Trump White House Assistant Press Secretary. NH Born & Raised. Following the 2020 election, she worked on Capitol Hill as the Communications Director for Congresswoman and House Republican Conference Chair, Elise Stefanik.
Donald Trump Jr.: Donald Trump Jr is an executive vice president at the Trump Organization. He is the son of President Donald Trump. Donald Trump Jr. was also a member of Donald Trump's presidential transition team, a group of advisors tasked with recommending presidential appointments for the incoming administration.
Charlie Kirk: Charlie Kirk is the Founder and President of Turning Point USA, a national student movement dedicated to identifying, organizing, and empowering young people to promote the principles of free markets, and limited government.
Donald J. Trump: Donald J Trump, is an American politician, media personality, and businessman who served as the 45th President of the United States from 2017 to 2021. He began the Make America Great Again movement with leadership that began giving America, as the Founding Fathers created it, back to the people.
Visit the Students Action Summit Website
Day Three Speakers Lineup (July 24, 2022)
The Rise of the New Media
Dave Rubin: Dave Rubin is an author, comedian, and TV personality best known for his political commentary. He is the host of The Rubin Report, a top-ranking talk show recognized as one of the most influential spaces for candid conversations about complex issues and current events. Dave is known for his iconoclastic and honest approach to big ideas and his unwavering support for free speech.
Queer Theory and the Pot Truth Progressives
Congressman Bryon Donalds: Byron Donalds grew up in Brooklyn, New York, and he is also the proud son of a hardworking and loving single mother. His mother dedicated her time instilling in him that greatness requires sacrifice, which drives him as a devoted family man and United States Congressman.
Jack Posobeic: Jack Posobiec is the Senior Editor of Human Events. He is a veteran intel officer who focused on China. He writes for Human Events and he was a Washington DC bureau correspondent for OAN.
Congresswomen Kat Cammack: Kat Cammack, the Congresswoman-elect for FL-03, will be the youngest Republican woman serving in the 117th Congress. Kat is a small business owner with grit, who grew up on a cattle ranch. She is a third generation sandblaster, an alumnus of the United States Naval War College, and was the longtime former Deputy Chief of Staff for Florida's 3rd Congressional District prior to her election. As the 3rd generation in the family business of monuments and commercial sandblasting, Kat learned early on both the value of hard work and the pressures that small family businesses face, ranging from labor challenges to regulations.
Governor Kevin Stitt: John Kevin Stitt is an American businessman and politician serving as the 28th governor of Oklahoma. A member of the Republican Party, he began his term as governor in January 2019. As a member of the Cherokee Nation, Stitt is the first tribally enrolled Native American to serve as governor of a U.S.
Greg Gutfield and Charlie Kirk
Greg Gutfield: Greg Gutfeld currently serves as host of Gutfeld! and co-host of The Five on Fox News. Joining the Fox network in 2007 as a contributor, Gutfeld was host of the 3AM/ET late night show Red Eye for the past eight years (2007- 2015) and The Greg Gutfeld Show (2015-2021).
Charlie Kirk: Charlie Kirk is the Founder and President of Turning Point USA, a national student movement dedicated to identifying, organizing, and empowering young people to promote the principles of free markets, and limited government.
Pete Hegseth: Peter Hegseth is a former Executive Director of Vets For Freedom and a senior counterinsurgency instructor at the Counterinsurgency Training Center in Kabul with the Minnesota National Guard. Hegseth has made multiple appearances on national television as a military analyst and lost the Republican party endorsement for the United States Senate election in Minnesota, 2012 to Kurt Bills. He is currently the CEO of Concerned Veterans for America and serves as a co-host of FOX News Channel's FOX & Friends Weekend.
Kayleigh McEnany: Kayleigh McEnany is the former White House press secretary and current co-host of Outnumbered on the Fox News Channel. Prior to serving in the White House, Kayleigh worked as the national press secretary for the Trump campaign and was formerly the national spokesperson for the Republican National Committee. Before joining the RNC, Kayleigh worked as a political commentator at CNN.
Visit the Students Action Summit Website