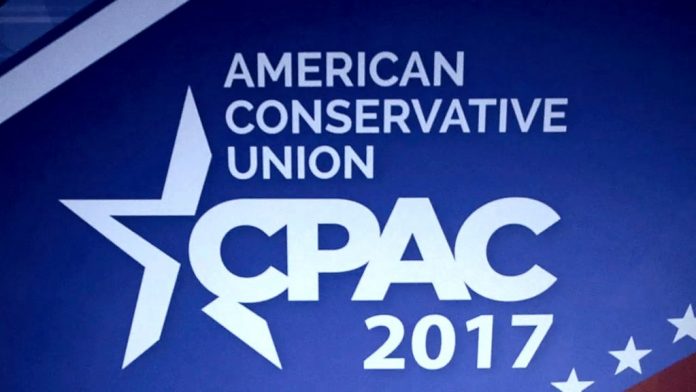 Video playlist of the Conservative Political Action Conference or CPAC 2017 which took place from February 22, 2017 to February 25, 2017 at Gaylord National Resort & Convention Center, Fort Washington, MD with speakers such as President Donald Trump, Vice President Mike Pence and Senator Ted Cruz.
Here is the schedule of some of the prominent speakers and discussions at CPAC.
Thursday: (all times Eastern)
9:10 a.m. — White House counselor Kellyanne Conway
10:05 a.m. — Wisconsin Gov. Scott Walker, Kentucky Gov. Matt Bevin
11:10 a.m. — Sen. Ted Cruz (R-TX) and radio host Mark Levin
11:30 p.m. — The Blaze host Dana Loesch
12:50 p.m. — Interview with Secretary of Education Betsy DeVos
1:05 p.m. — Conversation with White House strategist Steve Bannon, White House Chief of Staff Reince Priebus and American Conservative Union chairman Matt Schlapp.
2:20 p.m. — Tom Fitton, Judicial Watch
7:10 p.m — Actor Robert Davi
7:20 p.m. — Judge Jeanine Pirro, host of "Justice" on Fox News
7:30 p.m. — Vice President Mike Pence
Friday: (all times Eastern)
8:10 a.m. — Former Navy SEAL Rob O'Neill
8:25 a.m. — Dr. Sebastian Gorka, deputy assistant to President Trump
9:55 a.m. — Fox Business Network host Lou Dobbs
10:20 a.m. — WATCH PRESIDENT TRUMP'S REMARKS
11:55 a.m. — Nigel Farage, British politician and Fox News contributor – WATCH NIGEL FARAGE'S REMARKS.
12:55 p.m. — NRA CEO Wayne LaPierre
1:35 p.m. — Katie Pavlich
2:20 p.m. — Amb. John Bolton
2:30 p.m. — Rep. Kevin Brady (R-TX)
3:00 p.m. — Carly Fiorina
7:30 p.m. — The Ronald Reagan dinner, with keynote remarks by Michael Reagan.
Saturday: (all times Eastern)
10:05 a.m. — David Bossie, Citizens United
1:50 p.m. — Scott Pruitt, EPA Administrator
2:25 p.m. — Former Sen. Rick Santorum (R-PA)
3:05 p.m. — CPAC Straw Poll
3:25 p.m. — Sheriff David Clarke