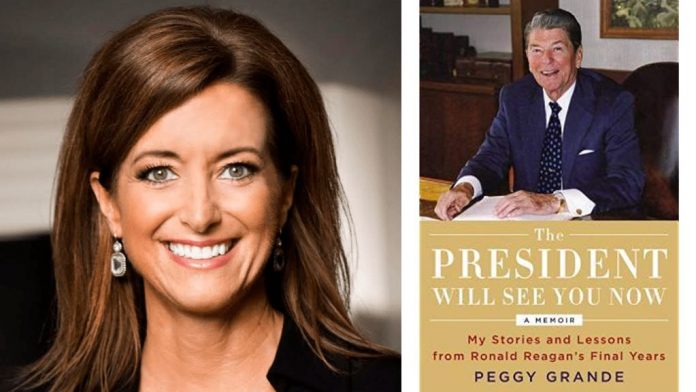 "Peggy Grande's memoir is the book to read on Ronald Reagan's post-presidential years…. Among the most unique and touching [books] ever done on the man… Wonderful."–The American Spectator
In The President Will See You Now, devoted Reagan insider Peggy Grande shares behind-the-scenes stories, intimate moments, and insights into one of America's most beloved presidents. Grande, who started in the Office of Ronald Reagan as a college student and earned her way into a coveted role as the president's Executive Assistant, offers an unparalleled perspective on the post-presidency of a political icon.
Grande's stories and never-before-seen photos show a unique, private side to a public figure and leader who reshaped conservatism, ushered in an era of prosperity, and helped spur the end of the Cold War. Grande reveals what day-to-day life was like in Reagan's California office, including the former president's relationship with the First Lady and his interactions with friends, world leaders, and everyday Americans. Grande recalls how Reagan kept a vigorous schedule for years after he left the White House, his robust engagement with others, and ongoing political advocacy. Despite his eventual Alzheimer's diagnosis, Grande shows how Ronald Reagan remained true to core beliefs, his gentlemanly kindness, and his undying hope for his country.
Today the Reagan legacy looms over American politics more than ever. Grande reminds readers why: When Ronald Reagan was president, we not only loved ourselves but also loved America, and the American values he represented: faith, optimism, and patriotism.
Editorial Reviews
Review
"Peggy Grande had a once in a lifetime opportunity to serve President Reagan after his presidency, and we are fortunate to have her stories…. This is a fresh look at a wonderful man who continues to inspire long after he served our country."―Dana Perino, White House Press Secretary for George W. Bush and bestselling author of And the Good News Is… and Let Me Tell You about Jasper…
"Throughout our country's history, our leaders and icons have been brought to life by those who knew them best. We are fortunate that Peggy Grande shares her time with one of our most beloved presidents. The President Will See You Now is a gift to all Americans."―RoseMarie Terenzio, New York Times bestselling author of Fairy Tale Interrupted
"Peggy Grande had a front row seat to the final years of Ronald Reagan's remarkable life. In The President Will See You Now, she shares amazing stories and renews our respect for such a remarkable leader. Peggy's insights remind us of President Reagan's eternal optimism and belief in the American people. For those who love Reagan, it is a must read."―Scott Walker, Governor of Wisconsin
"In The President Will See You Now, Peggy Grande has given us an inspiring portrait of Ronald Reagan, whose integrity brought out the best in everyone around him. Peggy's stories–from the love story of the president's marriage with Nancy, to the way he welcomed everyday Americans into his office, and especially her own inspiring journey as one of the president's closest aides–are a powerful vision of positive leadership. I cannot recommend this book enough."―Jon Gordon, bestselling author of The Energy Bus
"As a friend and colleague of President Reagan, I know how close Peggy was to him and her account of such a privileged association makes for a marvelous and exciting read. For anyone interested in finding out what Ronald Reagan was really like, up-close and personal, Peggy's book is an absolute must read. I found it fascinating and revealing from beginning to end!"―The Right Honorable Brian Mulroney, former Prime Minister of Canada
"We all have the ability to stand out in a crowd-to use our personality to our natural advantage, fascinate others, and make a difference. The President Will See You Now illustrates how true this is not only for its subject, Ronald Reagan, who achieved the highest office in our land, but also for its author, Peggy Grande, who was still a college student when she landed the job of a lifetime. This is a fascinating journey inside a private world."―Sally Hogshead, New York Times bestselling author of Fascinate and How the World Sees You
"Don't miss this shining book on a hill. Rather than the typical biography of our nation's 40th president that either slams him from the Left or lionizes him from the Right, Grande shows us the man in full. Unforgettable."―Ed Henry, journalist and author of 42 Faith: The Rest of the Jackie Robinson Story
"Peggy's book reminds us of Ronald Reagan the man as well as his presidency, surely one of the most consequential of the twentieth century. She shares the day-to-day workings of his post-presidency office and the joy of working for such an amiable, warm, and humble man, who championed American values and principles. She also shares the heartbreaking moment toward the end of his life when he was diagnosed with Alzheimer's, and the touching note he wrote to the public in which he said, 'When the Lord calls me home, whenever that may be, I will leave with the greatest love for this country of ours and eternal optimism for its future.' Pure Ronald Reagan and a beautiful story from someone who had the privilege of seeing him every day for years. A great read!"―Jim Angle, retired Chief National Correspondent, Fox News Channel
"Peggy's book is beautifully written, and it is far more than just an intimate picture of a wonderful man. Her attention to detail is like a personal visit with the man himself. As I read through the book, often lingering on meaningful paragraphs, I felt I was reliving my long friendship with President Reagan-and that I had been given a time-capsule chance to experience his warmth and kindness again. The President Will See You Now is a wonderful book that I will savor again and again."―Pat Boone

"A timely and revelatory reflection on the former president's conservative ideals."―Harper's Bazaar
Read less
About the Author
Peggy Grande worked in the Office of Ronald Reagan in Los Angeles, CA, from 1989-1999. As a keynote speaker to corporate executives, political organizations, executive assistants, and student groups, Grande inspires audiences with timeless Reagan lessons and principles. A graduate of Pepperdine University, she lives in a suburb of Los Angeles, CA, with her husband, her four children, and two dogs, including Mrs. Reagan's dog, Dutchess.