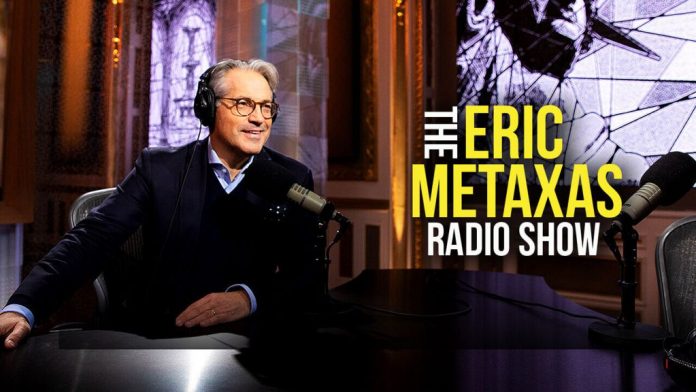 About Eric Metaxas Radio Show
In April 2015, Eric Metaxas began hosting a two-hour, daily nationally syndicated radio program broadcast from the Empire State Building in New York called The Eric Metaxas Show. The show is syndicated by the Salem Radio Network. Recent notable guests include Victor Davis Hanson, Diana West, K.T. McFarland, Katherine Schwarzenegger Pratt, Charlie Kirk, Ken Starr and many others. In the past he has interviewed Dick Cavett, David Brooks, Kirsten Powers, Kathie Lee Gifford, N. T. Wright, Peter Hitchens (brother of Christopher Hitchens), Jimmie "J.J." Walker, Andrew Garfield, now-convicted felon Russian Maria Butina, Milo Yiannopoulos, Ross Douthat, Tony Shalhoub, Morgan Freeman, Senator Rand Paul, Joseph Fiennes, Darryl Strawberry, and Susie Welch and more.
Eric has been canceled on YouTube.
Watch The Eric Metaxas on Rumble
About Eric Metaxas
Eric Metaxas was born in 1963 in is New York City neighborhood of Astoria, Queens and grew up in Danbury, Connecticut. He is an American author, speaker, and radio host. He has written three biographies, Amazing Grace: William Wilberforce and the Heroic Campaign to End Slavery about William Wilberforce (2007), Bonhoeffer: Pastor, Martyr, Prophet, Spy about Dietrich Bonhoeffer (2011), and Martin Luther: The Man Who Rediscovered God and Changed the World about Martin Luther (2017). He has also written humor, children's books, and scripts for VeggieTales. Metaxas is the founder and host of the NYC-based event series, "Socrates in the City: Conversations on the Examined Life" and the host of the nationally syndicated radio program, The Eric Metaxas Show.