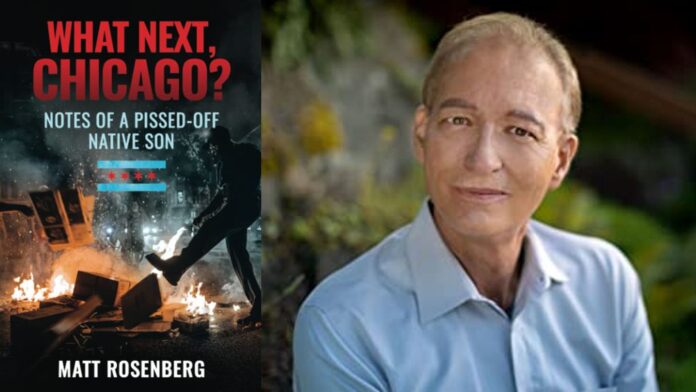 In the fall of 2020, amidst riots, looting, and an alarming uptick in senseless killings, journalist Matt Rosenberg returns to his native Chicago to see if the city can dig itself out of the hot mess it's become after decades of liberal governance.
Our nation's big cities are broken. Urban progressive government badly undermines those it claims to lift up. Matt Rosenberg lived in Chicago for thirty years, and came back to live there again amidst the turmoil of 2020. What Next, Chicago? Notes of a Pissed-Off Native Son exposes the roots of Chicago's violent crime, failing courts and schools, rotten finances, and ongoing Black exodus, and proposes a rescue plan for this emblematic American city.
"What has happened to Chicago? That's Matt Rosenberg's question, and mine as well. His loving tribute to our hometown is a moving, sensitive, humane, and trenchant critical assessment. Read it and weep." —Glenn C. Loury, Professor of the Social Sciences at Brown University, and author of One By One from the Inside Out: Essays and Reviews on Race and Responsibility in America
"Matt Rosenberg writes about the Chicago Way in the Chicago Style of a Mike Royko…. It's a coherent, honest, and balanced tour of the city's perpetual corruption, unsafe streets, gawd-awful schools, ghost neighborhoods, financial legerdemain, and the false Unified Theory of Systemic Racism that cloaks it all. Yet, What Next, Chicago? is no helpless, hopeless wail, but a powerful and useful roadmap for a rebirth of a once-great city, based on the voices of Black families and others who don't need academia to know what to do. Must reading for Chicago lovers." —Dennis Byrne, former Chicago Sun-Times editorial board member

Editorial Reviews
From the Author
I grew up and come of age in Chicago, from the mid-1960s to the mid-1990s.
My wife and I were married in Chicago by a Cook County Divorce Court Judge in a nondenominational chapel.
At the ceremony's end, he said, "I don't want to see you again." But that's never what I've said to Chicago. I've always come back.
In 2020 I watched from afar as the city was roiled by spiraling violent crime and a breakdown of the social order, following the horrible death of George Floyd at the hands of Minneapolis Police.
It seemed to me that Chicago was coming apart.
I've spent more than three decades working in journalism, public policy and communications. I began my career here in Chicago, working on a Pulitzer-finalist undercover investigation of Chicago's political corruption. It was set, believe it or not, in a tavern. Called The Mirage.
Later I helped get an independent, reform alderman elected to the Chicago City Council. I drove a Yellow Cab in Chicago. Then a limousine. The Burgundy Stretch Lincoln. It was a sweet ride. How could I miss, with an 8-Track player in back?
I went back to college and studied socialists. Became a newspaper reporter and community organizer in Greater Chicagoland. Eventually my work took me other places.
But looking at Chicago in 2020, I decided I had to return once again, and dig in deeper. News reports alone weren't enough. I moved into the ancestral Irish political turf of Bridgeport, from where have emanated five Chicago mayors.
And I began to travel deep into the city's South Side to meet with Black residents of Chicago to hear their perspectives, and life stories.
I wanted to get a handle on what was going on. And what were the ways forward, for this emblematic American city. I learned a lot. In part from public policy research that I undertook for the book. But there was more. I learned from those I interviewed – about what makes up the fabric of communities. About expectations, ideals, and some basic rules for living that in the book I call The South Side Rules.
It turns out that the majority of households in Chicago, even in the most troubled neighborhoods, are living with what we might term moral authority.But the city suffers from a Tyranny of the Minority, and a Tyranny of the Disengaged. From those who've make the news a parade of dismay, dysfunction, and death; and those who've switched the dial. It's an unreality show made all too real every day, in Chicago. It's made worse by a political class detached from constituents, and more focused on the accretion of power.
My experience as a researcher, and as a writer walking the city again, exploring the neighborhoods and lives of Chicagoans, put me squarely in the middle of debates about race and responsibility; family cohesion; public education; crime, courts, and policing; revitalization of ghost neighborhoods; and corruption and rigged rules of governance.
I learned there is no point in shying away from hard questions. And that we can't put racial walls around matters that concern and affect us all. But we've got to treat each other with respect as the conversation unfolds.
Writing this book forced me to confront an elephant in the room: the role of the family, faith, and the individual. To confront the question of whether we – even those of us operating at some disadvantage – have the power and capability – to shape our lives for the better.
It turns out there is wisdom secreted all over the place. You just have to get off the beaten track to find it.
After writing this book, I see the 2020s as a crucial decade for Chicago and other big U.S. cities that are struggling to achieve safety, solvency, and broader prosperity.
It's my hope that readers will join me in trying to figure out: what needs to change, and who must take responsibility?
About the Author
Matt Rosenberg has battled the Chicago Democratic Machine, advocated for transportation infrastructure; a better business climate; and government transparency. He worked on the Pulitzer-finalist Mirage tavern undercover investigation in Chicago, and helped elect an independent reform alderman to the Chicago City Council. He was a newspaper reporter and columnist in suburban Chicago, and a Seattle-Times op-ed columnist. He founded and ran the originally-reported news database Public Data Ferret, and was a senior editor for Mozilla's Open Standard. His writing has also appeared in the Chicago Tribune, Weekly Standard, National Review Online, City Journal, and Jewish World Review.