The Justice For J6 Rally brings attention to January 6th Trump supporters who have been kept in jail, often in solitary confinement, and persecuted and abused as political prisoners. They are often left without access to their attorneys, without access to evidence from January 6th, and without medical care or access to normal daily cleansing routines.
We request that anybody attending our events not wear any clothing or have signs supportive of either President Trump or Biden.

Anyone not honoring this request will be assumed to be an infiltrator and we will take your picture, find out who you are, and make you famous.

— Matt Braynard (@MattBraynard) September 14, 2021
WHEN: Saturday, September 18, 12:00pm EST – 1:15pm EST
WHERE: Union Square, located between 1st and 3rd Streets NW/SW (See the red area below).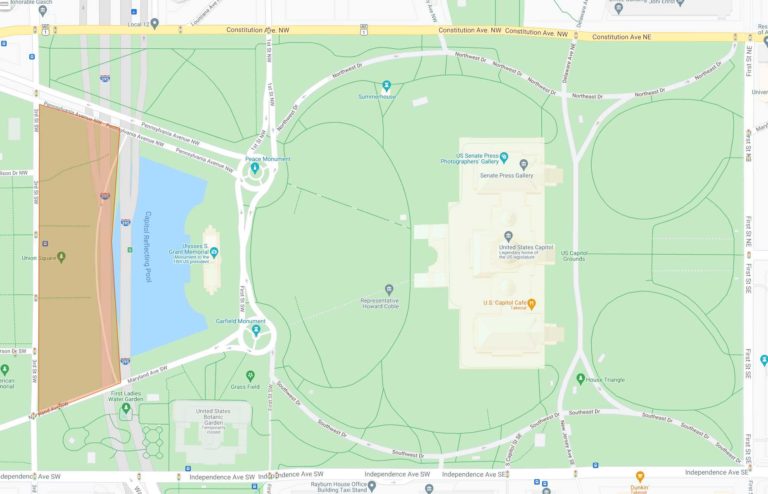 PARKING: Union Station parking garage. Go to unionstationdc.com for parking rates
and amenities.
METRO TRAINS: For assistance with travel from the airport such as metro access and where to go for ride pick up, visit the Ronald Reagan National Airport at flyreagan.com and Dulles International Airport at flydulles.com. If arriving at Dulles, take the Silver Line
Express Bus to the Wiehle-Reston East Metro Station, which connects to the Silver Line of the D.C. Metro. Use the Washington Metro Transit Authority website at wmata.com.
RULES FOR THE RALLY:
Travel in groups.
Be respectful to our security team and law enforcement.
Do not wear or bring political, candidate, or another organization's paraphernalia, including clothing or banners supporting President Trump or President Biden.
Do wear your red, white, and blue and bring your American flag and signs to show your support of the J6 prisoners.
If you see anyone causing trouble, start recording them with your cell phone video and signal for helpp to an LAA Volunteer (in the red LAA T-shirts).
QUESTIONS? Email rally@lookaheadamerica.org
JusticeforJ6_RallyGuidance_v1-1