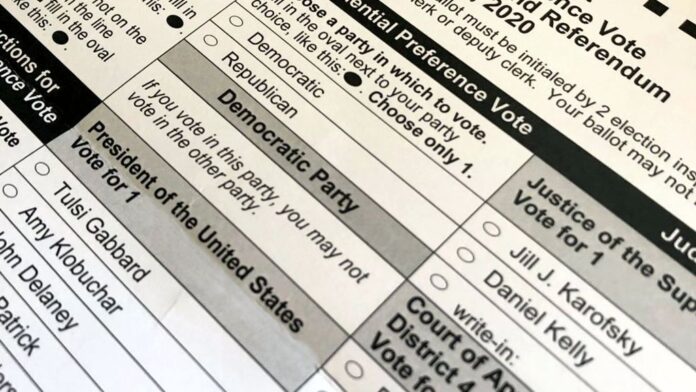 Republican lawmakers in Wisconsin are aiming to stop election workers from fixing mistakes on absentee ballots after the state Assembly's Committee on Campaigns and Elections advanced a plan this week.
According to the proposal, Assembly Bill 198, only voters or their witnesses would be able to fix mistakes on ballots—and no one else. Republicans have said that ballot curing, the term used to describe the fixing of errors on ballots, can lead to fraud.
Election clerks must contact the voter or the witness if they made a mistake on their portion of the ballot. Then the voter or the witness would be asked to correct their respective mistakes, says the text (pdf) of the legislation.
The legislation reads, "Under this bill, if a municipal clerk receives an absentee ballot with an improperly completed certificate or with no certificate, the clerk is required to return the ballot to the voter and post a notification of the defect on the voter's voter information page on the Internet site that is used by voters for original registration, currently titled MyVote Wisconsin. The bill also prohibits the municipal clerk from correcting a defect in the certificate."
Republicans said that it's designed to safeguard elections in the state.
"Because [absentee voting] is a privilege, there's got to be some responsibility that the voter has to exercise that privilege," said state Rep. Donna Rozar, reported The Center Square. "And I think that responsibility is to do it right and legally."
Democrat state lawmakers criticized the proposal, alleging Republicans are trying to prevent people from voting.
"I don't care if absentee voting is a privilege. That doesn't mean you should have to pass a test, or make sure that you dot every I and cross every T," said Democrat state Rep. Lisa Subek. "If someone makes an innocent, honest mistake, it is appalling that we're not going to then let their ballot count."
Read Full Article on TheEpochTimes.com
Wisconsin-2021-AB198-Introduced