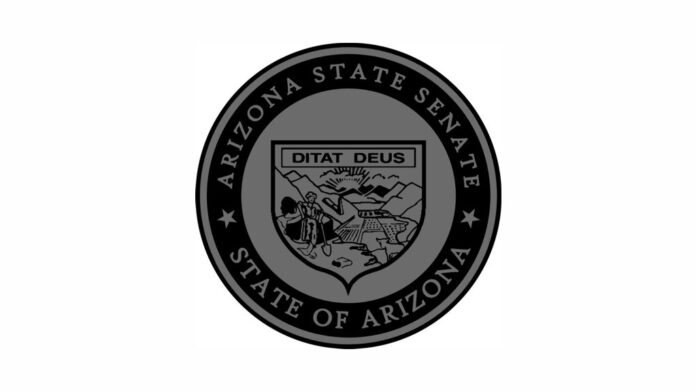 Arizona Senate Republicans voted to retroactively change a law that could force Maricopa County officials to hand over 2020 voting records and election equipment they've so far refused to provide.
Senate Bill 1408 states that the Legislature's authority to conduct an investigation on any matter "may not be infringed by any other law."
Sponsored by Gilbert Republican Warren Petersen, the bill also states that county election equipment and records may not be deemed "privileged information, confidential information or other information protected from disclosure."
The bill is something of an insurance policy for Petersen and other Senate Republicans, who've demanded Maricopa County officials grant them access to election equipment and ballots so the Senate can conduct its own audit of the 2020 general election.
The Maricopa Board of Supervisors complied in part by turning over a trove of election data. But the Republican-controlled board has refused specific demands for ballots and equipment.
Supervisors filed a lawsuit to quash the Senate GOP subpoena, arguing a state law prohibits them from turning over ballots, and that providing the Senate access to certain election equipment could disqualify those machines from being used in future elections.
The court has yet to settle the issue.
By Ben Giles
Senate Bill 1408 Text
State of Arizona
Senate
Fifty-fifth Legislature
First Regular Session
2021
SENATE BILL 1408
AN ACT
AMENDING TITLE 41, CHAPTER 7, ARTICLE 3, ARIZONA REVISED STATUTES, BY ADDING SECTION 41-1134; AMENDING SECTION 41-1152, ARIZONA REVISED STATUTES; RELATING TO THE LEGISLATURE.
(TEXT OF BILL BEGINS ON NEXT PAGE)
Be it enacted by the Legislature of the State of Arizona:
Section 1. Title 41, chapter 7, article 3, Arizona Revised Statutes, is amended by adding section 41-1134, to read:
41-1134. Legislative investigations; authority
THE LEGISLATURE'S PLENARY AUTHORITY TO CONDUCT AN INVESTIGATION ON ANY MATTER MAY NOT BE INFRINGED BY ANY OTHER LAW.
Sec. 2. Section 41-1152, Arizona Revised Statutes, is amended to read:
41-1152. Immunity of witnesses; election records
A. Testimony or evidence produced pursuant to this article may not be admitted in evidence or used in any manner in any criminal prosecution against a natural person sworn and examined before either house of the legislature or any committee of either house, except for perjury, false swearing, tampering with physical evidence or any other offense committed in connection with an appearance required by section 41-1151 if it constitutes either the compelled testimony or the private papers of such person which THAT would be privileged evidence pursuant to the fifth amendment of the Constitution of the United States or article II, section 10, of the Constitution of Arizona, and such person claimed the privilege against self-incrimination and a majority of the committee, after consultation with the attorney general, votes to order such person to testify or produce such papers.
B. EXCEPT AS PROVIDED IN SUBSECTION A OF THIS SECTION AND NOTWITHSTANDING ANY OTHER LAW, COUNTY ELECTION EQUIPMENT, SYSTEMS AND RECORDS AND OTHER INFORMATION THAT IS UNDER THE CONTROL OF COUNTY PERSONNEL MAY NOT BE DEEMED PRIVILEGED INFORMATION, CONFIDENTIAL INFORMATION OR OTHER INFORMATION PROTECTED FROM DISCLOSURE, ARE SUBJECT TO SUBPOENA AND MUST BE PRODUCED. A COURT MAY COMPEL A PERSON TO PRODUCE THE RECORDS THAT ARE SUBJECT TO THE SUBPOENA.
Sec. 3. Retroactivity
This act applies retroactively to from and after December 31, 2019.