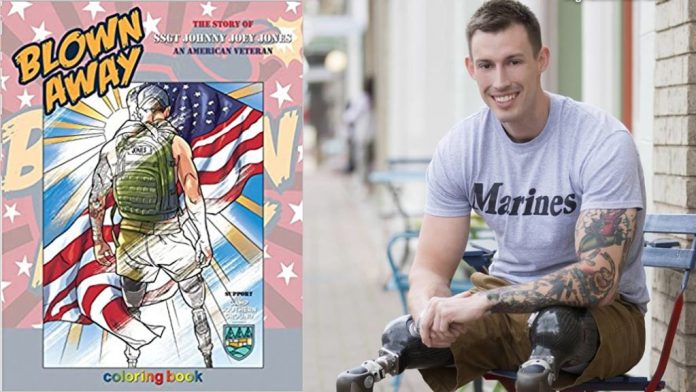 The courageous story of retired USMC bomb technician Sgt Johnny (Joey) who, after stepping on an IED in Afghanistan, lost both of his legs. His story is told in a beautifully illustrated coloring book!
About SSGT Johnny Joey Jones
Staff Sergeant (Ret.)
Joey Jones, USMC EOD
Combat-wounded Staff Sergeant (Ret.) Johnny "Joey" Jones turned a traumatic, life-changing disability into a personal mission to improve the lives of all veterans. Known to his friends as "Triple J," Jones was raised in Dalton, Georgia and enlisted in the Marine Corps after high school. During his eight years of service, he worked as an Explosive Ordnance Disposal (bomb) Technician, deploying to both Iraq and Afghanistan on separate tours. During his last deployment to Afghanistan, Jones was responsible for disarming and destroying 80+ improvised explosive devices (IEDs) and thousands of pounds of other unknown bulk explosives. During that tour on August 6, 2010, he stepped on and initiated an IED, resulting in the loss of both of his legs above the knee and severe damage to his right forearm and both wrists. He recovered at Walter Reed National Military Medical Center in Washington D.C. Focusing on overcoming adversity, finding a positive perspective in dire situations, leaning on those around you, and finding strength in yourself and your community, Joey now serves at the Chief Spokesperson for Zac Brown's Southern Ground and Military director and spokesperson for Camp Southern Ground. Joey regularly appears as an outspoken, yet insightful military analyst for Fox News.