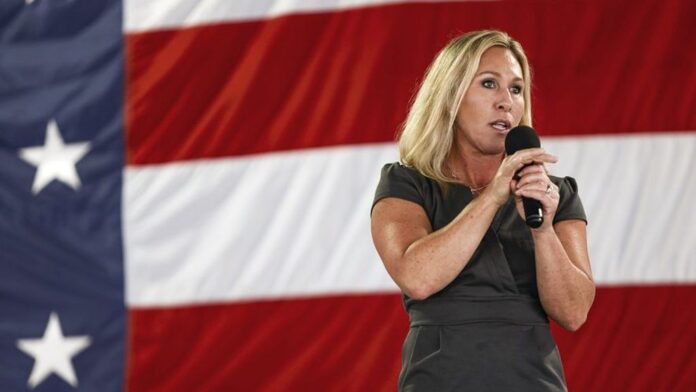 A left-wing group's challenge to Rep. Marjorie Taylor Greene's (R-Ga.) candidacy in this year's elections based on claims she violated the Constitution's Disqualification Clause by engaging in a supposed insurrection against the U.S. government may be allowed to move forward, a federal judge indicated.
This insurrection supposedly culminated in the Jan. 6, 2021 security breach at the U.S. Capitol in which supporters of then-President Donald Trump delayed the congressional certification of the 2020 presidential election results for several hours. Democrats and some Republicans characterize the disturbance, from which some elected officials took cover, as an insurrection or coup attempt aimed at overthrowing the U.S. government, a claim that has been adamantly denied by Trump and his supporters.
Greene, an outspoken supporter of former President Donald Trump, represents Georgia's 14th congressional district. Greene is known for making strongly worded, often controversial statements.
Supporters of a nonprofit called Free Speech for People filed a challenge (pdf) March 24 with Georgia Secretary of State Brad Raffensperger, a Republican. The challenge alleged Greene "aided and engaged in an insurrection to obstruct the peaceful transfer of presidential power, disqualifying her from serving as a Member of Congress under Section 3 of the 14th Amendment and rendering her ineligible under state and federal law to be a candidate for such office."
The rarely invoked Disqualification Clause in Section 3 of the 14th Amendment was enacted in the wake of the Civil War to keep former Confederates out of Congress.
Raffensperger referred the challenge to the state's administrative court, the Office of State Administrative Hearings (OSAH), which assigned the case to Administrative Law Judge Charles Beaudrot. On April 3, Greene moved to dismiss the challenge. A hearing before Beaudrot is scheduled for April 13.
But on April 1, Greene also filed a federal lawsuit seeking to halt the challenge on constitutional grounds. The petition in the case, Greene v. Raffensperger, court file 1:22-cv-01294, was filed in U.S. District Court in Atlanta.
Read Full Article on TheEpochTimes.com