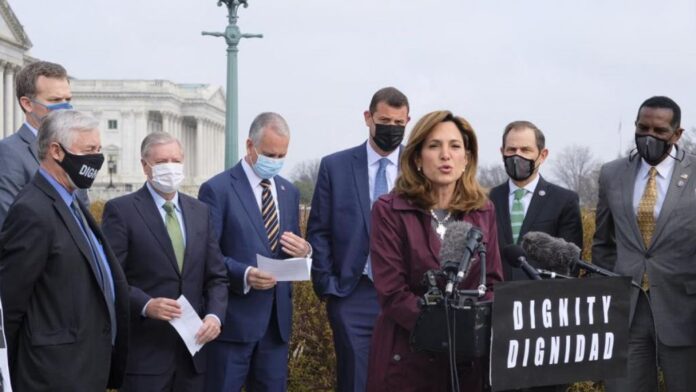 March 17, 2021 ~ WASHINGTON, D.C. — Today, Congresswoman Salazar joined with Congressional Republicans to offer new solutions to reform our broken immigration system and address the crisis at our southern border. While Washington Democrats have proposed divisive and unworkable legislation, Rep. Salazar is leading and convening a coalition to fix the issue of illegal immigration once and for all.
At a press conference at the U.S. Capitol, Salazar laid out the major principles that serve as the foundation of her proposal, including: Border Security, Asylum Reform, Protection for Dreamers, and Practical Solutions for the Undocumented and Guest Workers. She emphasized the themes of Dignity and Redemption as a compassionate and reasonable approach to address this complex problem that has lingered for decades.
"No political party holds a monopoly on compassion in our county," said Congresswoman Salazar. "The principles in my plan will help bring Dignity and Redemption to our undocumented population as we work to secure our border. We have a crisis on our Southern border, children are being trafficked, and we must do everything possible to fix our immigration system once and for all."
Prior to serving Congress, Salazar spent 35 years as a Spanish-language journalist covering border crises, Central American conflicts, and immigration issues affecting her community in Miami, FL.
Congresswoman Salazar currently represents Florida's beautiful 27th Congressional district which includes most of the City of Miami, its suburbs, and the beaches. She serves on the Small Business Committee and the Committee on Foreign Affairs.
Florida Congresswoman Maria Elvira Salazar on immigration
Dignity Plan PDF
Dignity-Proposal-DRAFT