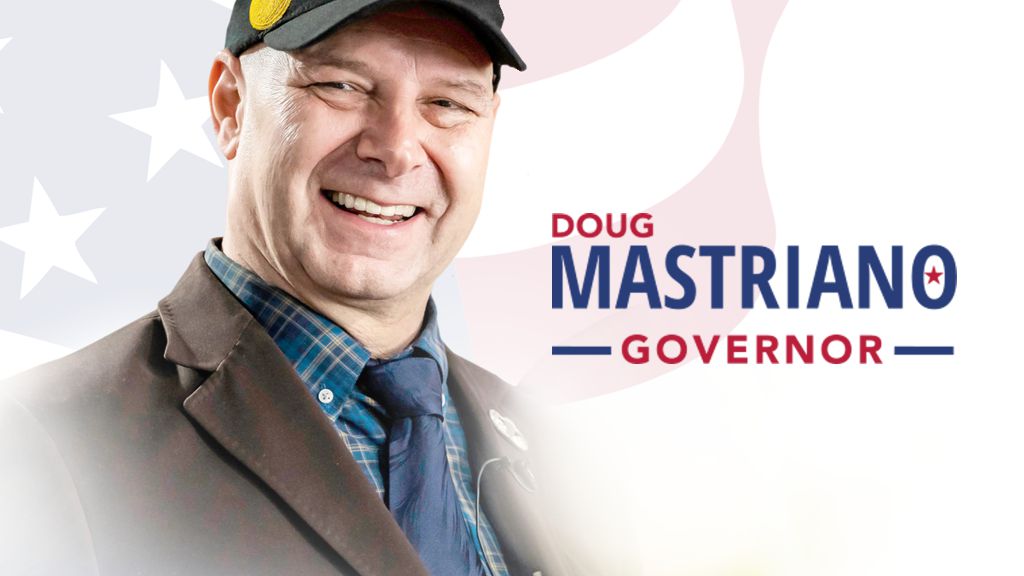 Restore Freedom. Rebuild Families. Revive the Economy. Walk as Free People.
Visit Doug Mastriano Governor Website
The Plan
You Have Been Shut Down, Locked Out, And Unheard.
Restore Freedom: Return To Normalcy
Reject unconstitutional edicts by Biden Administration and the CDC
Elimination of all pandemic executive orders and edicts from the Wolf Administration
Immediate ban on government and school mask mandates
Immediate ban on all COVID-19 vaccine mandates
Expansion of access to off-label early treatment drugs for COVID
Immediate review of all hospital polices related to in-patient COVID treatment
Restore Confidence: Election Integrity
Immediately end all contracts with compromised voting machine companies
Appoint a Secretary of State with experience in securing elections from fraud
Ban the use of private funds (like Zuckerbucks) to influence elections
Work with the General Assembly to:
Eliminate "No-Excuse" Mail-in voting and Ballot Drop boxes
Enact Universal Voter ID for voting
Increase and protect poll watchers
Visit Doug Mastriano Governor Website
Rebuild Families: Education And Parental Rights
Immediate ban on Critical Race Theory and Gender Theory studies

Thorough review of district "Diversity, Equity, and Inclusion" plans

Work with the General Assembly to introduce and pass bills to:

Shift funding to students instead of systems by establishing Education Opportunity Accounts for parents
Expand the successful EITC and OITC programs to help kids escape failing schools
Strengthen Curriculum Transparency requirements
Establish a universal "Parental Rights" statute in law
Revive The Economy: Lowering The Tax Burden
Immediate establishment of the "Property Tax Elimination Taskforce"

Taskforce will work to introduce legislation that eliminates Property Taxes for all homeowners

Immediate establishment of working group to slash the gas tax while maintaining level funding for roads and bridges
Attract new employers to PA by reducing the Corporate Net Income Tax Rate
Reduce Burdensome Regulations: Slash The BureaucracyE BUREAUCRACY
Establishment of "strike force" teams at each state agency with the goal of cutting statewide regulations by at least 55,000 in the first year
Work with the General Assembly to introduce and pass bills to:

Automatically review all regulations with a cost of more than $1 million
Eliminate TWO regulations for any new regulation created
Increase transparency for permit process and expedite reviews
Visit Doug Mastriano Governor Website
Reduce Burden Of Government: Budget And Fiscal Responsibility FISCAL RESPONSIBILITY
Work with the Auditor General and State Treasurer to audit and itemize the previous five year's budgets to identify areas of waste and abuse
Propose a 2023 budget that keeps reckless spending in check
Clean Up The Harrisburg Swamp
Prohibit all public officials from being able to recieve lavish gifts from lobbyists and special interest groups
Work with the General Assembly to introduce and pass bills to:

Eliminate the "Revolving door" of lobbyists immediately taking jobs in the General Assembly to lobby from the inside
Prohibit political consultants from also registering as lobbyists
Revive The Economy: Energy
Protect utility costs by immediately withdrawing from Tom Wolf's "Regional Greenhouse Gas Initiative"
Encourage investment into the natural gas and coal industry
Expand exploration and technolgy in the Marcellus Shale region
Lift Tom Wolf's regulations, taxes and fees and expand into drilling/mining
Restore Freedom: Second Amendment
Work with the General Assembly to introduce and pass bills to:

Establish PA as a "Second Amendment Sanctuary" from misguided Federal laws and orders
Make PA a Constitutional Carry State
Visit Doug Mastriano Governor Website
---
MAGA hero Doug Mastriano, who is running for governor of Pennsylvania, talks to host Steve Bannon about the race. President Trump has endorsed Senate President Jake Corman in the race, but Mastriano says voters concerned about voter integrity need to vote for him. Mastriano says Corman is all talk on election integrity, and no action. "There are 16 pieces of legislation in the Senate" and Corman is not getting them passed.
---
Visit Doug Mastriano Governor Website
About Doug Mastriano
I am a Proud Husband & Father.
With God at my helm and my wife Rebbie by my side, I will rebuild family rights, putting decisions back in your hands.
I am a Retired Army Colonel.
With more than 30 years of service, I have dedicated my life to fighting for freedom and serving the people of this great nation.
I am an Advocate for Business.
When you were shut down, I stood at the capitol and demanded change. I won't stop fighting for your right to do business without burden.
I am a Patriot.
With a Doctorate in History and more than 30 published articles on history and strategy, I am passionate about our country's founding ideals.
Doug Mastriano is a combat veteran and the son of a career US Navy man. He is an Eagle Scout and worked as a paperboy, janitor, security guard, short-order cook, pizza delivery person and dishwasher. Doug was commissioned in the U.S. Army in 1986 and served on the Iron Curtain with the 2nd Armored Cavalry Regiment in West Germany. While serving along the East German and Czechoslovakian borders, he witnessed the end of the Cold War and thereafter deployed to Iraq for Operation Desert Storm (1991) to liberate Kuwait. His regiment led the attack against Saddam's elite Republican Guard forces. Doug went on to serve in Washington, DC, the 3rd Infantry Division and US Army Europe. After 9/11, Mastriano was the lead planner for the operation to invade Iraq via Turkey. He served four years with NATO and deployed three times to Afghanistan. Mastriano was the director of NATO's Joint Intelligence Center in Afghanistan, leading 80 people from 18 nations. On his own initiative, Doug led seven relief operations to help Afghan orphans. He completed his career as a Professor of the U.S. Army War College (PAWC), Carlisle, PA, and taught Strategic Studies at the Master Degree level to the next generation of senior leaders.
Visit Doug Mastriano Governor Website
Mastriano is a Doctor of History (PhD) and has four master's degrees: Strategy, Strategic Intelligence, Military Operations, and Airpower. He earned a BA from Eastern University in St. Davids, Pennsylvania and was the alumnus of the year in 2009. He led the search to locate where America's greatest WW I hero, Alvin York, received the Medal of Honor and led the construction of a three mile trail, with two monuments and nine markers in the Argonne Forest of France. He published 30 articles on strategy and historic topics and authored the book Alvin York: A New Biography of the Hero of the Argonne which received four awards. His new book, Thunder in the Argonne is the first to tell the complete story of America's largest battle, the 1918 Meuse-Argonne Campaign. Doug's next book, Pershing's Lieutenants, was just released and is an edited work that focuses on the leadership style of American officers in the First World War.
Mastriano has appeared on Tucker Carlson, C-Span, numerous national radio programs (John Batchelor Show, Eric Metaxas Show) and on Fox Business with Stuart Varney. He retired from the U.S. Army in November 2017 after 30 years of active duty as a Colonel. In 2018, he was a candidate for Pennsylvania's 13th U.S. Congressional District, where he overwhelmingly won Franklin and Fulton Counties and placed 3rd (of 8 candidates) in Adams and Cumberland Counties.
Doug is married to Rebecca (Stewart), whose ancestors settled this region of Pennsylvania in 1732. Rebecca was a chaplain with Marketplace Ministries at Martin's Famous Pastry Shoppe. Their son Josiah is a graduate of Liberty University, and an Eagle Scout, Canadian Chief Scout and recipient of the Duke of Edinburgh's Gold, Silver and Bronze Awards.
Mastriano is an active member of his church and resides near Caledonia State Park, Pennsylvania.
Mastriano was elected to serve as the Senator for Pennsylvania's 33rd District in May 2019, which includes all of Adams County, most of Franklin County and parts of Cumberland and York Counties. Mastriano has thirty years of experience building teams to get the job done. He has dedicated his life to fighting for freedom, defending our families and serving the people of this great land.
Visit Doug Mastriano Governor Website