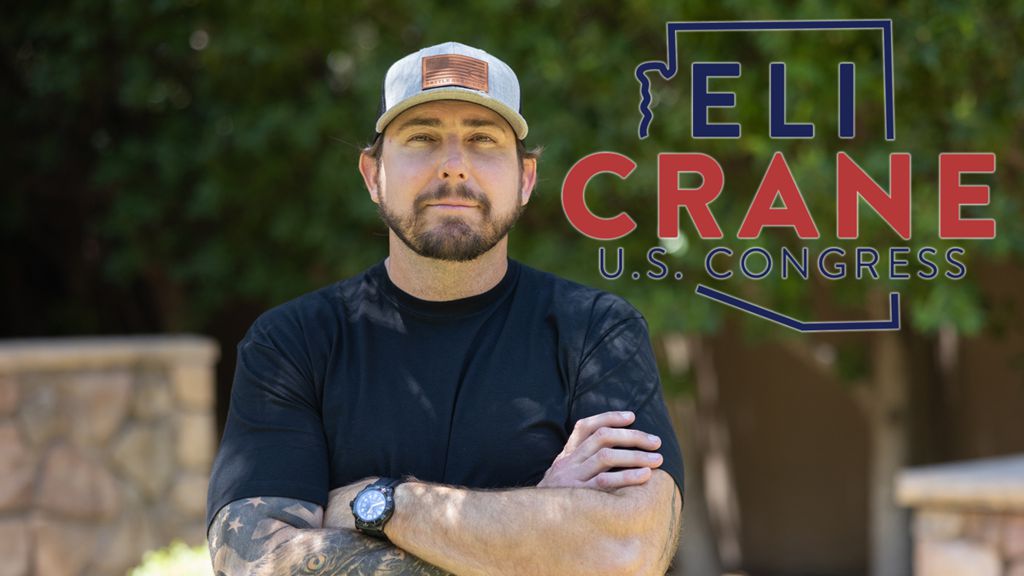 Eli Crane is a business owner and former U.S. Navy SEAL, who is running to represent Arizona's First Congressional District in the U.S. House of Representatives to unseat Democrat Rep. Tom O'Halleran.
When Eli Crane announced his run for office he said he "literally has skin in the game for the people of Arizona and America." 
Who is Eli Crane
Eli Crane is a combat veteran, small-business owner, husband, father and native Arizonan.
Eli went on five war time deployments, three of them to the Middle East with SEAL Team 3 and served our country for 13 years – protecting and defending America's freedom, way of life, and Constitution.
Now Eli and his wife Jen own a small business in Tucson. Together they started Bottle Breacher, a successful company featured on Shark Tank that employs and gives back to veterans nationwide. Eli knows the struggles small business owners and employees in Arizona face, that is why he believes in low taxes, less regulation, and supporting pro-growth, pro-job policies.
But Eli's most important mission to date has been raising his two daughters. He is proud to be raising his family in Arizona and is ready to fight for their future.
Eli is a faith-oriented, family man and is pro-life, pro-second amendment, and unafraid to take a stand against cancel culture and the radical left. He is active in Arizona as a brand ambassador for Sig Sauer firearms and as a former member of the national Advisory Committee on Veteran Business Affairs. Eli believes in giving back to local communities and helps support numerous vet organizations every year.
Issues Important to Eli Crane
Defending Our Values
I've put my life on the line to protect and defend this country and our Constitution from foreign and domestic threats. The greatest threat to our freedoms and way of life isn't external – it's right next door. We have allowed dangerous ideologies to invade and destroy our founding institutions and values, allowed Big Tech to censor free speech, and allowed our children to be taught that they are not equal to their peers.
This is not the time for hesitancy or political correctness – we must fight back against Big Tech, the media, and the Democrats before we lose our country
Border Security
When I was a Navy Seal, I stopped terrorists from wreaking havoc on our shores. As your Congressman, I will work tirelessly to stop them from entering our southern border. Arizonans deserve leaders that will put their safety and security first and understand that border security is national security. Every American deserves protection from the human traffickers, drug dealers and terrorists who enter our country illegally. It's time we gained operational control of our borders by empowering frontline agents and officers to enforce the laws Congress passed and apprehend and return illegal border crossers.
National Security
As a Navy SEAL, I fought terrorists on foreign shores who wanted to destroy America and our freedoms. Our values make America the best nation in the world – they must be protected at all costs. I know far too well the importance of strong national security.
I will fight in Washington to support and fund our active military, families and veterans and work to strengthen our military and counter-intelligence to protect from terrorists – both at home and abroad.
Election Integrity
As someone who went to war for our country, there is nothing more democratic and patriotic than promoting transparent elections. But in 2020, Democrats across the country sought consequential election changes that led to confusion, chaos, and distrust in our democracy. In order to restore confidence in our electoral system, we need to reinstate election day voting, bolster polling sites, end unrestricted mail-out balloting and enact stronger voter ID laws and stiffer penalties for anyone caught harvesting ballots or found guilty of voter fraud.
Economy
Arizona's economy is strong because of conservative policies – we can't let Washington politicians and Democrats weaken our state with bad policies like trillions of dollars in handouts and higher taxes. We've seen what their policies have done to California and we can't afford that happening to Arizona.
I'm a small business owner; I know firsthand the struggles that workers, their families and small business owners face. That's why I'll fight for lower taxes, less regulation, and pro-growth policies. The more money that Arizonans get to keep in their pockets and the least government involvement, the better.