Issues
Safety
We need to return to law and order, with a strong parole board, truth in sentencing, and bail reform that does not allow for the release of repeat offenders.
Supporting our law enforcement community and providing resources for recruiting and training will be a priority.
Let's address addiction with compassion for all involved, including more access to care but with consequences for criminal behavior.
We can stop rampant homelessness by ending public drug use, prosecuting criminal behavior, using outcome-based funding models, and cleaning up our streets and parks.
Visit Heidi Ganahl For Governor Website
Colorado Freedom
The cost of living is out of control in Colorado. We will lower taxes and fees and give all Coloradans a government that works for them.
Mandates need to be replaced with trust in Coloradans to do the right thing.
Small businesses like restaurants and child care providers need support. We must remove unneeded regulations and create policies that encourage job creation.
We must prioritize incentives for smart development and reduce the red tape preventing affordable housing.
Restoring voter confidence in 2022 is paramount. We can achieve that with increased transparency, accountability, and oversight.
Visit Heidi Ganahl For Governor Website
Family
We'll take real action to address our state's mental health crisis and tragic teen suicide rates. We can accomplish this by shifting to outcome-based funding models, using emergency authority to add mobile response units and thousands of beds for treatment, and launching a recruiting and training effort to support professionals.
To address the huge gaps in learning and better partner with parents, we will work to fund the student, not the system. We must boost fundamentals like reading, writing, and math rather than spend time on controversial concepts like critical race theory.
Critical reforms to our family courts and welfare system will help our children thrive.
Colleges and universities should be held accountable for a student's success.
We'll create a task force and public awareness campaign around the dangers of current drugs.
Visit Heidi Ganahl For Governor Website
Rural Colorado
The environment is important to all Coloradans. An all-of-the-above energy approach will ensure we have affordable energy that is clean and safe.
We will protect farmers, ranchers, and property owners' mineral and water rights.
Let's fix the roads across our state. We must ensure that Coloradans can get to and from work, our ski areas and the beautiful Western Slope.
We will aggressively manage our forests to address fires.
We will develop broadband in gap areas and create employment opportunities for rural Colorado so children can stay in their hometowns.
Visit Heidi Ganahl For Governor Website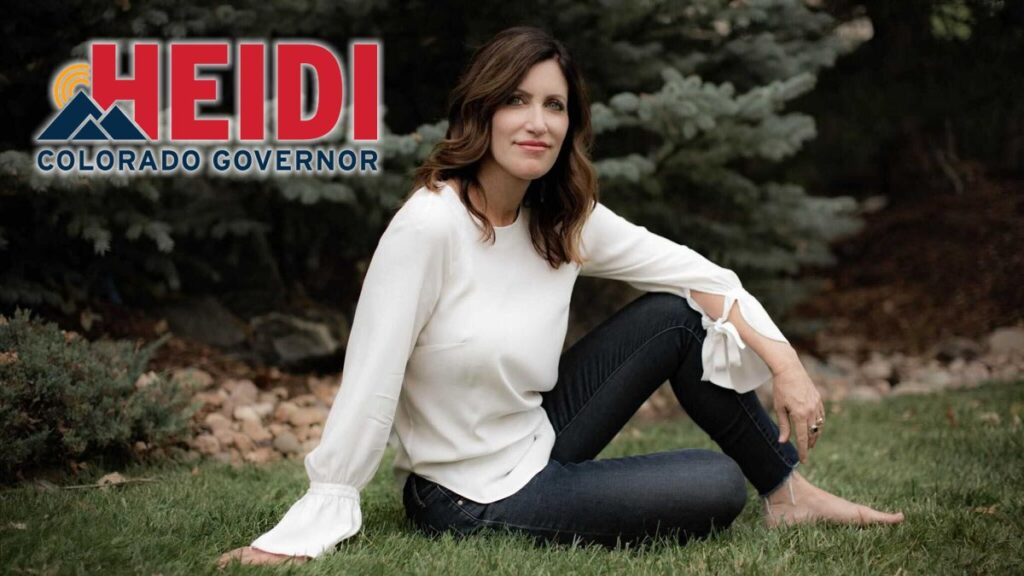 Visit Heidi Ganahl For Governor Website
About Heidi Ganahl
Heidi's best known as the founder of Camp Bow Wow, where she turned a lifelong passion for dogs into the largest pet care franchise in the world. Under Heidi's leadership, the $150 million brand hit the Inc. 500/5000 list five years in a row and has grown to hundreds of franchises across the U.S. and Canada. Heidi also founded its sister charity, the Bow Wow Buddies Foundation, which rehomed over 10,000 pups and helped franchisees raise over a million dollars for animal health causes during her tenure.
She has also faced extraordinary adversity in her life, beginning with the loss of her husband at the age of 27. Heidi's entrepreneurial spirit helped her pick herself up and build Camp Bow Wow.
It also inspired her to build SheFactor—a digital and live community that aims to impact young women by empowering them to pursue a life that they love.
Ganahl has been named one of Fortune magazine's 10 Most Promising Entrepreneurs, and Parade magazine included her in their list of the top women entrepreneurs in the country. She's passionate about giving back and in 2013 founded Moms Fight Back, and later the Fight Back Foundation, charities to tackle the most pressing issues facing our kids today.
In addition, she is a statewide elected official, serving on the University of Colorado Board of Regents, overseeing a $5 billion budget and over 30,000 employees. She has chaired the finance committee, the audit committee, the search committee for the new President of CU and led major initiatives around free speech, diversity and addressing the cost of college.
She has a passion for keeping the American dream alive for future generations.
Heidi is an author, inspirational speaker, community leader and philanthropist, having served on numerous boards around pets, entrepreneurship, women's leadership and education.
She is married to Jason Ganahl, a BBQ Champ and restaurateur. Heidi has four children – Tori, Hollie, and twins Jack and Jenna ranging in age from 9 to 26, a lab Henry and two rescue kitties Daryl and Haley!
Visit Heidi Ganahl For Governor Website