Issues
Election Security
Securing chain of custody requires securing all election system related data as it flows through the voting systems along with ballot paper, printing, transportation, and processing – doing so is a matter of state and national security.
America's foreign and domestic enemies undoubtedly target our vulnerable election systems to accomplish through election fraud what cannot be accomplished through military action. Per the defense.gov website, the Department of Defense (DoD) budget is $705 billion, as required to protect America from foreign enemies. Simultaneously, election systems under Michigan law are not required to enforce ballot chain of custody procedures as necessary to ensure election security – placing our state and nation at risk.
Visit the Kristina Karamo Website
Investigate Fraud Claims
All reports from citizens reporting statutory, rule or standard operating procedure violations must be investigated in-depth consistent with election system corruption representing a state and national security threat. We must end politicized investigations or dismissing allegations of election corruption – even when they cross party lines.
Open The DMV Branch Offices
Get the offices open and then let Secretary of State DMV branch managers make their branches the best they can be. Draconian rules and rigidity at the branch level have tied the hands of managers, creating extended wait times. Branch managers know what is best for their locations, giving them freedom to manage and take ownership of their branches to improve customer service.
Protecting Your Identity
Identity theft threatens the security of all citizens. Under the direction of the Secretary of State, the Office of Investigative Services is tasked with protecting your identity information. With criminals continually creating new schemes to victimize citizens in the digital world, the SoS must deploy and manage system such that the latest advances in technology and investigative techniques protect our identities.
Visit the Kristina Karamo Website
Election Integrity
Black Box Voting systems conceal their source-codes, object codes, or other internal operations, preventing those needing to verify voting system security. Security that must include function/processing testing. Every voting, ballot processing, and data-stream relating to voting systems must have its related software or hardware manufacturer be required to turn over all source and/or object codes to the Michigan SoS so systems tested and verified – as a matter of Michigan and national security.
Existing systems involving hardware or software provided by manufactures classifying their products as "proprietary" cannot be utilized in voting systems because they preclude verification of voting system security. The Secretary of State must have full access to every detail, of all election hardware and software in order for any provider to be able to sell the state of Michigan software or hardware impacting voting results.
Among other election system security features, static, dynamic and data security features should be considered. The security features can include at least one of ultraviolet features, infra-red features, magnetic features, fluorescent features, visual ink features and watermarks.
The data security features can include encrypted data. At least some of the security features may be masked by one another. For example, a printed security feature can be printed on the ballot over a security feature that is embedded in the paper stock used to make the ballot.
Visit the Kristina Karamo Website
Fair Auto Shop Inspections
Some automotive dealers and repair facilities have experienced unjust citations assessed by Secretary of State agents, who experience pressure to issue citations instead of assisting dealers or repair facilities to come into compliance. The citations are used to generate revenue, which is not the intent of the law.
These actions drive repair costs up while also placing government regulators in the precarious situation of obeying the intent of the law, or their supervisor — who can intimidate or reprimand, including by firing. There should only be 'fixed fines per incident type' issued to uphold the law. All ambiguity must be removed and minimize the possibility of Secretary of State inspections and fines used to generate income and intimidate dealers and repair facilities.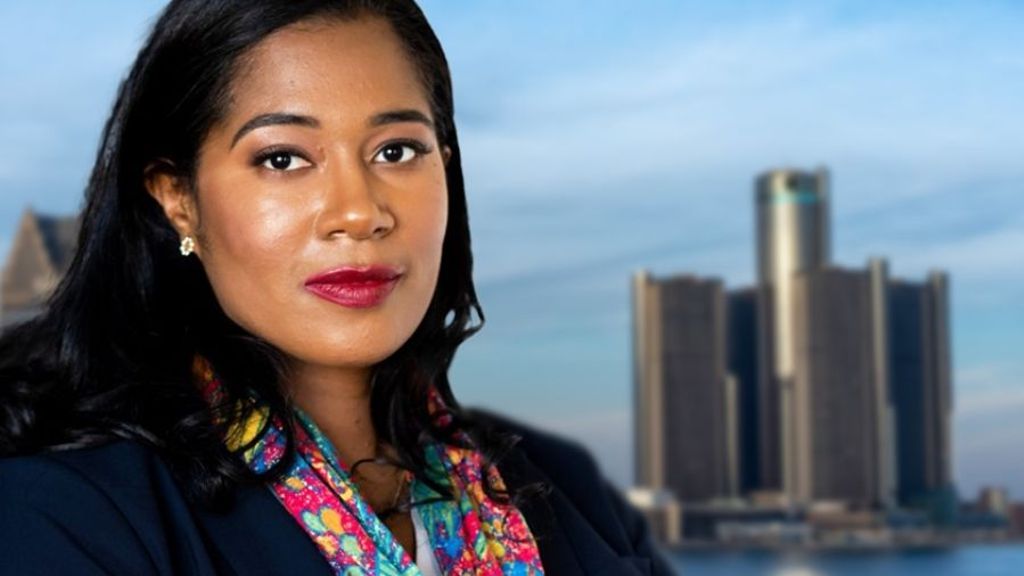 Visit the Kristina Karamo Website
About Kristina Karamo
Michigan Native, Defending the Rule of Law.
Kristina is an educator, mother of two, and proud Christian patriot from Oak Park, Michigan.
Kristina is running for Michigan Secretary of State to fight to make sure that elections are decided by legal votes (not manipulation and corruption), and to improve DMV service for all Michigan citizens. More broadly, as Secretary of State Kristina will work to restore the rule of law and earn back the trust of Michigan citizens in our government.
A believer in servant-based public service, Kristina looks to the Constitution as the supreme law of the land, with its focus on limited government and the protection of the inalienable rights of the American people.
Visit the Kristina Karamo Website
Committed Public Servant.
Kristina currently leads a research team – comprised of former Secretary of State personnel – investigating the "governmental pathologies" which prevent the Office of the Secretary of State from operating according to the rule of law. This team holds a complete operational understanding of election system failures and inefficiencies, and forms the basis of Kristina's day-one policy team.
Other activities include:
Serves on the Michigan GOP State Committee, representing the 14th District.
Elected member of the 14th District Republican Executive Committee.
Former co-host of the popular conservative podcast "Right on 14th".
Member of the Board of Directors of the Detroit Affiliate of Stanton International.
Served on Right to Life of Michigan's Black Leadership Committee.
Visit the Kristina Karamo Website
Educator. Trusted Commentator.
Kristina earned a B.A. in Communications from Oakland University in Rochester, MI, and an M.A. in Christian Apologetics from Biola University in La Mirada, CA. She serves as a professor at Wayne County Community College, where she teaches Public Speaking and College Orientation.
A passionate advocate for academic freedom, Kristina is an alumnus of the Discovery Institute's C.S. Lewis Fellows Program on Science and Society, which studies restrictions on academic freedom in the sciences, and its impact on society.
Kristina's experiences have also led to her being a guest on some of the nations most highly rated political commentary and debate shows, including appearances on the Sean Hannity Show, Fox & Friends, Lou Dobbs Tonight, BBC World News and numerous other programs. Additionally, she has become a Michigan favorite on the popular Fox 2 Detroit television show Let it Rip
Visit the Kristina Karamo Website