Morgan Served In President Trump's State Department, And Now She's Running For Congress To Stop The Biden Administration From Undoing The America First Agenda.
Visit the Morgan Ortagus For Congress Website
Issues
Secure the Border
Morgan has seen firsthand why secure borders and the rule of law is tantamount to our national security through her work in the Trump Administration. As part of the Trump Administration, historic strides were made to secure our southern border, but all of that good work is being undone by the Biden Administration and Democrats in Washington who have created a humanitarian crisis at our southern border. As your Congresswoman, Morgan will stand firm against the radical Left's attempts to incentivize illegal immigration, and she will fight for an immigration system rooted in the rule of law. And of course, she will fight to build the wall.
Support Our Military and Veterans
Wholly committed to serving our country, Morgan is an officer in the United States Navy Reserve. Morgan's grandfathers, who both served in the military, taught her the importance of service to our country. In Congress, she will always fight to ensure that our armed forces have the resources they need to keep our country safe. She will always work to ensure that our veterans have the benefits they were promised – and have earned.
Protect the Right to Life
As the mom of a one-year-old daughter, Morgan understands how precious the right to life is. She is unequivocally 100 percent pro-life, and she's committed to being a voice for the voiceless. Morgan was a part of the most pro-life administration in history, and she is deeply troubled by Democrats' lack of respect for the right to life. Morgan believes not a single American taxpayer dollar should go to an abortion provider, here in the United States or to countries around the world, and she will always fight to defund Planned Parenthood.
Advance Religious Freedom
The First Amendment of the U.S. Constitution guarantees Americans the freedom of religion, not freedom from religion. Yet for decades, Americans of faith have continuously been pushed out of the public square, even shamed for their beliefs, and that has worsened in the last year as Democrats in Washington push our country closer and closer to socialism. The Biden Administration and Congressional Democrats fundamentally oppose Americans' right to worship freely and without government interference. As your Congresswoman, Morgan will always fight to preserve your right to worship the way you want to, without fear of persecution by the federal government.
Visit the Morgan Ortagus For Congress Website
Hold China Accountable
In the Trump Administration, Morgan saw the threat Communist China poses to the United States and the world. She was also a key part of the team working to hold them accountable. Make no mistake: China is an absolute threat to our nation, both economically and militarily. The Chinese Communist Party enslaves its own people, bullies us and our allies, and unleashed the Wuhan Virus on the world. China wants to replace the United States as the dominant superpower on Earth. She is committed to holding them accountable for their human rights violations and the threat they pose to our safety and our freedom.
Stand With Israel
Israel is our strongest ally in the Middle East and the only democracy in the region. Israel is a key partner in our fight against Islamic extremism and standing up against Iran — the biggest sponsor of terrorism in the world. Morgan worked on the historic Abraham Accords that brought peace deals between Israel and UAE, Bahrain, and Sudan. She supports a foreign policy that puts America First, and that includes supporting our allies.
Ensure Free & Fair Elections
Our democracy lives and breathes through the faith in our election process. Voting without showing identification should be unthinkable, but it is the unfortunate reality in many places throughout the United States. Those who are attempting to undermine our election process with no-ID required voting give a whole new meaning to the phrase "Vote early, vote often!"
Support Term Limits
When a representative is elected to Congress, it should be their objective to serve those who elected them – not the other way around. Congressional seats belong to the People – not elected officials. Career politicians only serve themselves, but term limits promote a healthy rotation of power and encourage those in office to create policies for the people – not to get re-elected. That's why Morgan believes in congressional term limits, and she signed the U.S. Term Limits Amendment Pledge, committing to serve no more than three congressional terms (six years).
Visit the Morgan Ortagus For Congress Website
Stop Inflation and Reckless Spending
Having served in the U.S. Department of Treasury, Morgan understands the horrible effect reckless spending has on our economy. Unfortunately, hardworking American families have experienced these effects firsthand under the Biden Administration. Our national debt is a threat to our national security. In Congress, Morgan will fight to stop Washington's out-of-control spending.
Defend the Second Amendment
Morgan believes the Constitution means what it says: the right of the people to keep and bear arms shall not be infringed. Law-abiding American citizens should not have their Second Amendment rights taken away because of the unlawful activity of a select few.
The Biden Administration, Democrats in Congress, and liberal activist judges want to take away that right from law-abiding Americans. Morgan firmly opposes any attempts by the radical Left to take away your Constitutional rights to protect yourself and will stand strong for the Second Amendment in Washington.
Stop Unconstitutional Mandates
Morgan is committed to honoring Americans' freedoms and will always fight against the government forcing any U.S. citizen to get a medical procedure in order to have a job, travel, or go about their daily lives. She believes it's a part of Democrats' plan to turn America into a socialist country. Joe Biden's federal vaccine mandate is blatantly unconstitutional and any attempts to enforce it must be stopped by Congress and the states. It sets a dangerous precedent. Elected leaders should always respect the Constitution and be vigilant about protecting freedom, and as your Congresswoman, that's exactly what Morgan will do.
Morgan knows we can best defend our democratic process by allowing and encouraging every eligible legal U.S. citizen to vote — easy to vote, but hard to cheat. States like Tennessee are able to count ballots efficiently, transparently, and usually have a clear result on election night. But secure processes like Tennessee's are under threat by Washington Democrats' infamous H.R. 1 bill, which would be a complete federal takeover of the election system and prohibit common-sense voting provisions like photo ID requirements. Morgan will always fight to keep our elections secure and safe from unconstitutional overreach by the Biden Administration.
Lower Taxes and Reduce Regulation
From her work in the private sector, Morgan understands firsthand how critical it is to get government out of the way so that businesses can grow and create jobs. Burdensome government regulations prevent the private sector from building a strong economy. The amount of time and money that small businesses on Main Street exhaust to comply with complex rules from the government is ridiculous. We need to get government off the backs of mom-and-pop stores so they can spend that wasted time and money on their employees and communities.
Visit the Morgan Ortagus For Congress Website
Balance the Budget
Your family works hard – and makes tough choices – to balance their budget, and the federal government should too, but the last thing we need is higher taxes. The government needs to cut its reckless spending and reduce the rampant waste, fraud, and abuse. Morgan supports a balanced budget amendment to ensure that the government's balance sheet remains strong for future generations.
Back The Blue
Our police put on their badges every morning not knowing whether they'll come home that night — but they do it anyway because they believe their community is worth protecting. Their heroism and sacrifice deserve our respect.
Yet despite the daily efforts of our law enforcement, Democrats are still calling to "defund the police." This is absolute madness. We have seen Democrat-run cities across the United States attempt this strategy — and they have retreated from it as fast as their legs will carry them. You can count on Morgan to support our police, support our sheriffs, and fight for the rule of law.
Educate the Next Generation For Success
As a Mom, Morgan understands the importance of an education that works for each individual child. Above all, that means students must be in the classroom – not on Zoom. She supports school choice and getting the federal government out of the classroom and that means abolishing the Department of Education. Morgan also believes we must take a close look at what exactly our children are being taught. Fringe theories and liberal propaganda like critical race theory and the 1619 Project have no place in our schools. Morgan is outraged by Democrats and union leadership increasingly try over the last year to keep parents out of the classroom. Morgan believes that parental involvement and engagement are fundamental to student success, and she'll fight to keep the liberal woke agenda out of classrooms.
Increase Access to Qualify Healthcare
Democrats in Washington want to implement government-run healthcare that would put your family in line for healthcare behind illegal immigrants. Morgan knows that would be disastrous, and she's committed to working toward a healthcare system that works for every American family. That means a patient-centered system, where patients and their doctors make their healthcare decisions.
Visit the Morgan Ortagus For Congress Website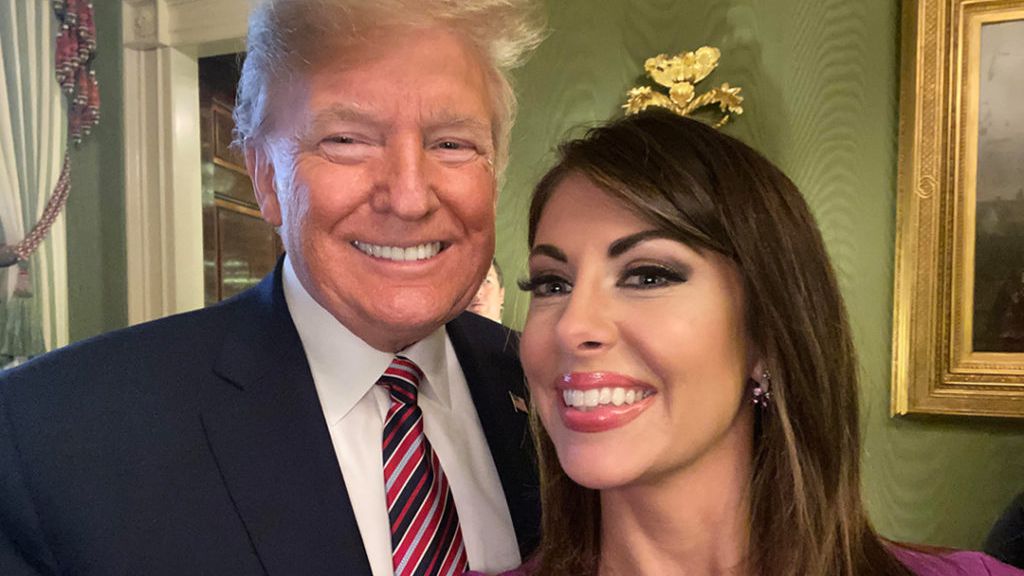 Visit the Morgan Ortagus For Congress Website
About Morgan Ortagus
Morgan Ortagus is running for Congress in Tennessee's Fifth District with President Trump's "complete and total endorsement." She is an active U.S. Navy Reserve Officer and a business executive, who is running for Congress to stop Democrats from destroying all the good work accomplished by President Trump and his administration. For Morgan Ortagus, it's personal: she served in President Trump's Department of State.
In the Trump Administration, she worked closely with the White House on the historic Abraham Accords that brought peace deals between Israel and UAE, Bahrain, and Sudan. Traveling with Secretary of State Michael Pompeo to more than 50 nations, she coordinated messaging campaigns and responses to sensitive and high-profile foreign policy actions, from hostage negotiations to the U.S. campaign against Huawei's 5G expansion in the West. She led U.S. government efforts to push back against sophisticated Chinese, Russian, and Iranian disinformation campaigns, and was instrumental in the United States' determination of the Chinese government's genocide against the Uyghurs.
Morgan Ortagus worked her way through public high school and college, in an array of jobs, including as an Applebee's waitress and hostess. In business, Morgan has worked with clients in Africa, Asia, and the Middle East.
Morgan and her husband, Jonathan, have a daughter, Adina, who is the light of their lives. They live in Nashville and attend Congregation Sherith Israel.
Visit the Morgan Ortagus For Congress Website