"My pledge to the people of North Carolina is this:  I will go to work for you every single day – putting you first and fighting to protect our constitution, our freedom and our conservative values.  I will always stand and put America first." ~ Sandy Smith
Sandy Smith is the unapologetic America first, Pro-Life, Pro-Guns, Pro-Military, freedom loving, Pro-Trump fighter running for U.S. Congress in North Carolina's 1st District. She's a fighter who's not afraid to stand up for what is right and she knows we need to do everything we can to drain the swamp. She made history by swinging her district 25 points towards the Republicans and she will help finish the job and take back our country in 2022.
Visit the Sandy Smith For Congress Website
Visit the Sandy Smith For Congress Website
On The Issues
Life
I believe that life begins at conception. As your Congresswoman, I will fight every day to protect and defend the sanctity of life, including the unborn.
Guns
As our founders declared, the right of the people to keep and bear arms shall not be infringed. I am a proud gun owner with a North Carolina concealed carry permit. I believe that the right to self-defense is a basic human right, and will work tirelessly to defend our 2nd Amendment rights.
Election Integrity
Governance by the people depends on our elections. We must restore confidence by making voter ID mandatory. Eliminate all universal mail in ballots, and limit absentee ballots to active military members deployed or stationed overseas and senior citizens. Require annual cleaning and auditing of our voter rolls. Eliminate extended voting periods and require all absentee votes be received the day before the election.
Illegal Immigration
We need to stop the Democrat lawlessness and secure our country. I support President Trump's Border Wall and strong border security policy. We need to finish the wall, end chain migration, and fix the crisis on the southern border.
Visit the Sandy Smith For Congress Website
Energy
Energy independence is critical to safeguarding our national security. Closing the Keystone pipeline killed thousands of good paying jobs and weakened the United States of America's energy standing in the world. Socialist dreams like the "Green New Deal" will put America Last.
Law & Order
All Americans deserve to live in a community that is safe and secure. No American should ever have to wonder if the police will come when they need help. As Americans, we must reject the anti-Police rhetoric of the radical left. Calling to defunding the police is reckless and dangerous. I stand with our law enforcement, and support all of our men and women in blue.
Budget
You have my commitment to pursue fiscally-responsible budgetary policy. America cannot continue its path of uncontrolled taxing and spending. I believe that deep budget and tax cuts are required to bring America back to fiscal sanity.
Education
I support School Choice as every child should have the opportunity to have a quality education and it shouldn't be based on their zip code or their family's financial situation. Parents should be the ultimate decision maker when it comes to their child's education not the government.
Visit the Sandy Smith For Congress Website
Our Constitution
I will stand up and protect our Constitution as it is written and not how the Left feels it should be written. I will stand up for free speech, our liberties and push back on radical Left's "Cancel Culture".
Fighting For Small Business
I believe we should allow all businesses to open. The current government overreach has done nothing but kill thousands of small business and jobs. We need to allow all businesses the opportunity to succeed, especially small businesses as they are the lifeblood of America.
Healthcare
Healthcare must be focused on the patient, and based on a free and open market. I strongly support efforts to open up competition across state lines, which will lower healthcare costs for North Carolinians and encourage new providers to open in our small towns.

I proudly support medical freedom. No more mandates, period. Your healthcare choices are for you and your doctor to make, not the government.
Our Military
We must always stand up and fight for our men and women who put on a uniform and protect our freedoms and defend our nation. We have to support our military service members, on and off the battlefield. Our veterans deserve the very best in care and I will fight tirelessly for them.
Visit the Sandy Smith For Congress Website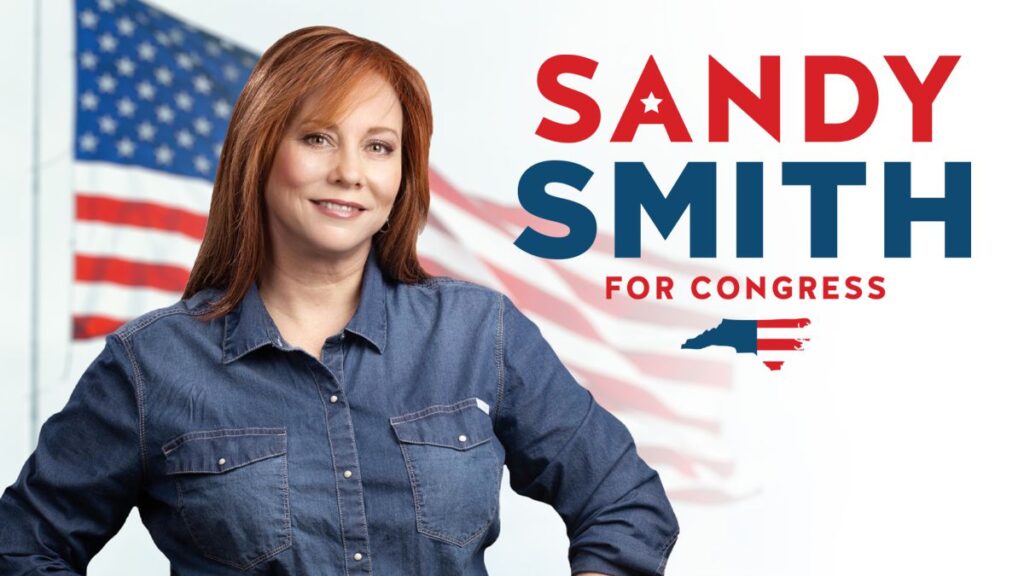 Visit the Sandy Smith For Congress Website
Meet Sandy Smith
Sandy is a successful business executive who has started businesses, created jobs, and worked her way up the hard way. The high energy, can-do attitude Sandy brings is exactly what's needed in D.C. to drain the swamp and make Congress work for the people of North Carolina.
Business Executive, Entrepreneur And Real Estate Investor.
Sandy has started businesses, created jobs, and worked her way up the hard way. Her professional experience includes agriculture, construction, and spinal biomechanics – from managing, to negotiating, to training and development. Sandy knows firsthand what it takes to start and run a business, balance the books, and make payroll.
Visit the Sandy Smith For Congress Website
Strong Military Roots.
Sandy's family has served in the Air Force, Army, Navy and Marines. She is a proud military mother as her oldest honorably served as a United States Marine. She knows what it is like to have a family member deployed overseas and not home for the holidays. Sandy will stand up and fight for our men and women who put on a uniform to defend our nation.
Actively Serving Her Community.
Most recently, Sandy volunteered with her church to help with the Farmers to Family program spearheaded by the Trump administration. Over a four week period, she distributed 4800 boxes of food to families in her community. Sandy also started a nonprofit youth organization which was structured so that any child who wanted to participate could, regardless of their family's financial situation.
Ready To Serve North Carolina.
Sandy and her husband William happily reside in Nash County, NC and share four adult children. They also have a beautiful farm in Ayden, where they embrace the farming and agricultural life. While working and raising a family, Sandy finished her education and graduated Cum Laude from East Carolina University.
Visit the Sandy Smith For Congress Website