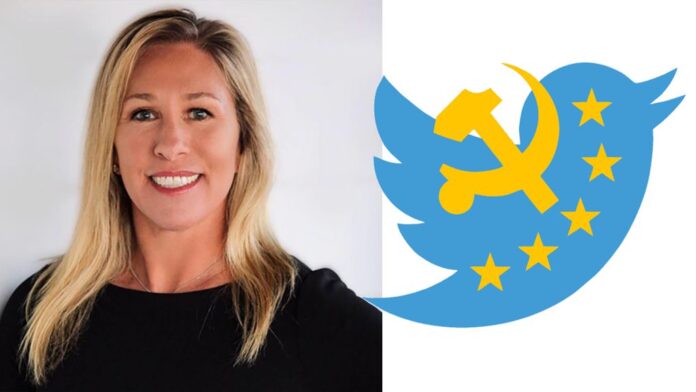 Twitter permanently suspended the personal account of Rep. Marjorie Taylor Greene (R-Ga.) on Jan. 2, claiming that she was posting false information relating to the COVID-19 pandemic.
"We permanently suspended Marjorie Taylor Greene for repeated violations of our COVID-19 misinformation policy," a Twitter spokesperson said in a statement to media outlets, repeating a boilerplate message that it has offered after other recent suspensions were handed down. "We've been clear that, per our strike system for this policy, we will permanently suspend accounts for repeated violations of the policy."
Representatives for Twitter and Greene's office didn't respond to requests for comment by press time. It's not clear which of Greene's posts drew the ire of Twitter on Jan. 2, and Twitter didn't elaborate on the alleged "misinformation" that Greene had posted.
"Account suspended. Twitter suspends accounts which violate the Twitter Rules," her page now reads.
Greene's House of Representatives account is still online.
Greene responded to Twitter's suspension on Gettr, a social media platform started by Jason Miller, a former adviser to former President Donald Trump.
"When Maxine Waters can go to the streets and threaten violence on Twitter, Kamala and Ilhan can bail out rioters on Twitter, and Chief spokesman for terrorist [Islamic Revolutionary Guard Corps] can tweet mourning Soleimani but I get suspended for tweeting VAERS statistics, Twitter is an enemy to America and can't handle the truth," Greene wrote on the platform. "That's fine, I'll show America we don't need them and it's time to defeat our enemies."
Greene was referring to VAERS, or the Vaccine Adverse Event Reporting System, which people use to report adverse events following COVID-19 vaccination.
Her ban comes about a year after Twitter suspended Trump's account following the Jan. 6, 2021, Capitol breach incident.
Greene issued an additional statement following her ban.
"Social media platforms can't stop the truth from being spread far and wide," she wrote. "Big Tech can't stop the truth. Communist Democrats can't stop the truth. I stand with the truth and the people. We will overcome!"
Greene's ban suggests that Twitter is taking a more hard-line stance against users who post COVID-19 or vaccine information that runs contrary to official narratives.
Recently, prominent mRNA technology contributor Dr. Robert Malone told The Epoch Times that Twitter suspended his account, which had more than 500,000 followers. Malone had become a prominent skeptic of mandatory vaccinations among children.
"Today it did. Over a half million followers gone in a blink of an eye. That means I must have been on the mark, so to speak. Over the target," Malone wrote on Substack. "It also means we lost a critical component in our fight to stop these vaccines being mandated for children and to stop the corruption in our governments, as well as the medical-industrial complex and pharmaceutical industries."
Read Original Article on TheEpochTimes.com