Exposing the Hidden Agenda in America's Schools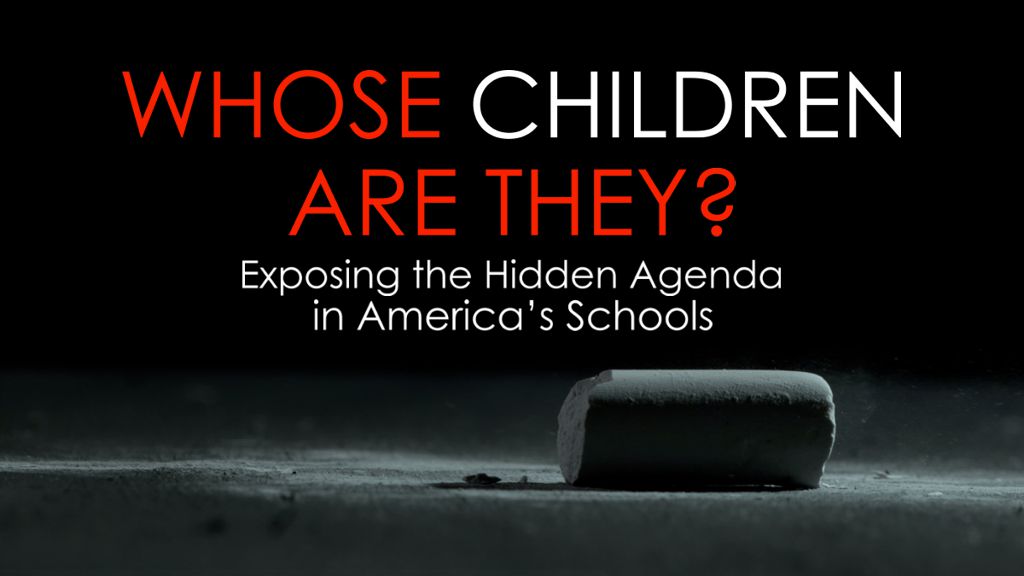 About
WHOSE CHILDREN ARE THEY? is the groundbreaking and powerfully persuasive documentary featuring brave teachers, empowered parents, and front-line experts who pull back the curtain about what is truly happening in our public schools today.
This film will be the starting point for a full cultural conversation about the need to return to the original intent of education, not indoctrination. "Whose Children Are They?" will inform and equip parents, teachers, grandparents and concerned citizens, to partner together for the innocence and well-being of our children. It will also educate all education stakeholders on the corrupting influence of teachers' unions, and the vital importance of removing them from our schools, in addition to educating parents on the need to stand with good teachers, and empower teachers to stage a mass Union Exit.
Visit the Whose Children Are They? Website
Cast
Alex Newman
An award-winning international journalist, educator, author, speaker, investor, and consultant Alex Newman serves as the executive director of the non-profit Public School Exit. Alex also serves on several boards for education-focused organizations. He has written extensively on education and other topics in publications including The Epoch Times, WND, The New American magazine, Charisma, and many more. He also co-wrote the book Crimes of the Educators: How Utopians Are Using Government Schools to Destroy America's Children with Dr. Sam Blumenfeld. He teaches Economics to high-school seniors through FreedomProject Academy and, along with his wife, homeschools his 5 children.
Visit the Whose Children Are They? Website
Virginia Walden-Ford
Virginia Walden Ford is one of America's leading advocates for parent empowerment. As a student, a mother, an advocate, and a grandmother, Virginia has spent her lifetime fighting to create new educational opportunities for children and families. While she was raising her three children in Washington, D.C., Virginia was shocked that so many children were forced to attend failing, crumbling schools simply because they lived in the "wrong" ZIP codes. In fact, she worried that her own son, William, was falling through the cracks of a system that wasn't focused on the best interests of children.
In 1998, she formed a grassroots organization, D.C. Parents for School Choice going door-to-door, neighborhood-to-neighborhood, recruiting and training thousands of parents to stand up for their children's futures.
In 2003, with the support of national education organizations and lawmakers, Virginia and her courageous group of parent advocates succeeded in convincing Congress and President George W. Bush to enact the nation's first-ever Opportunity Scholarship Program for low-income children.
Virginia is the subject of the 2019 film Miss Virginia starring Uzo Aduba, Matthew Modine, Amirah Vann, Vanessa Williams, and Niles Fitch.
Visit the Whose Children Are They? Website
Carol Swain, Ph.D.
Dr. Carol Swain, an award-winning political scientist and former tenured professor at Princeton and Vanderbilt Universities, is a Distinguished Senior Fellow for Constitutional Studies with the Texas Public Policy Foundation and an educational advisor for American Cornerstone Institute founded by Dr. Ben Carson.
She has served on the Tennessee Advisory Committee to the U.S. Civil Rights Commission, the National Endowment for the Humanities, and the 1776 Commission. Dr. Swain is the author or editor of 11 books, including the bestseller, Black Eye for America: How Critical Race Theory is Burning Down the House (co-authored Christopher Schorr). Her latest book is Countercultural Living: What Jesus Has to Say About Life, Marriage, Race, Gender, and Materialism.
She is an expert on critical race theory, American politics, and race relations. Her television appearances include ABC's Headline News, BBC Radio and TV, NPR, CNN's AC360, Fox and Friends, Judge Jeanine, The Ingraham Angle, and Tucker Carson.
She has published opinion pieces in The New York Times, The Washington Post, The Wall Street Journal, the Epoch Times, The Financial Times and USA Today.
Dr. Swain is an entrepreneur, and her businesses include Carol Swain Enterprises, L.L.C. and Unity Training Solutions, L.L.C., which offers an alternative to Diversity, Equity, and Inclusion Training (DEI).
She holds five degrees including a Ph.D. from University of North Carolina at Chapel Hill and an M.S.L. from Yale.
Visit the Whose Children Are They? Website
Andrew Pollack
Andrew Pollack was an entrepreneur and businessman with experience in scrap metal, real estate, and property management. His life dramatically changed when his daughter Meadow was murdered in the Stoneman Douglas High School shooting in 2018. He now dedicates his life to making schools safe again.
Andrew founded a non-profit, Americans for Children's Lives and School Safety (CLASS) dedicated to ensuring that the families of victims get answers and justice. He is also credited with helping to pass the "Marjory Stoneman Douglas High School Public Safety Act".
Because he knew Meadow would want people to know what happened to her, Andrew co-authored the book, "Why Meadow Died: The People and Policies That Created The Parkland Shooter and Endanger America's Students", with Max Eden, an education expert and Research Fellow at the American Enterprise Institute
Visit the Whose Children Are They? Website
Rebecca Friedrichs
Rebecca Friedrichs is part of a national movement to restore the voices and authority of parents and teachers in America's schools.
As a twenty-eight-year public school teacher, she was forced to fund unions whose politics and divisive tactics degraded her profession, our schools, and our national character.
Her lawsuit, Friedrichs v California Teachers' Association, brought with ten other teachers, was argued before the U.S. Supreme Court in January 2016, and blazed the trail for ending forced unionism for all teachers and government employees in the United States.
Rebecca is the author of Standing Up to Goliath which exposes the corrupt and abusive teacher unions told through dozens of powerful personal accounts.
Rebecca, along with her husband Charles, also founded For Kids and Country a national movement of parents, teachers and citizens uniting to restore our schools and culture. Her editorials can be found in the Washington Times, Washington Examiner, FOX News, and other outlets. She appears regularly on radio and television outlets and she is the host of a Prager University video on why good teachers want school choice, and she was the second speaker on the opening night of the 2020 Republican National Convention.
Most importantly, Rebecca is a lover of Jesus Chris, the wife of Charles and mother of two grown sons Kyle and Benjamin.
Deborah Flora
As the President and Founder of Parents United America, Deborah Flora has advocated for parents, introduced curriculum transparency legislation, and championed educational freedom. She is also a partner in Lamplight Entertainment and Whetstone Media Group producing numerous film and media projects.
Visit the Whose Children Are They? Website