It's time to focus on what UNITES us and rise above what DIVIDES us.
Dearborn – Unite America is excited to bring the message of unity and truth to Dearborn, Michigan during this Dearborn – Unite America Rally.
Location:
Fairlane Banquet Center
700 Town Center Dr.
Dearborn, MI 48126
Date & Time:
October 30, 2022
4:00-7:00pm
Hosted By Bernadette Smith: MIGOP Ethnic Vice Chair, with Special Guest Speakers Kristina Karamo, Candidate for Secretary of State, and Matt DePerno, Candidate for Attorney General.

Dearborn Unite America Speakers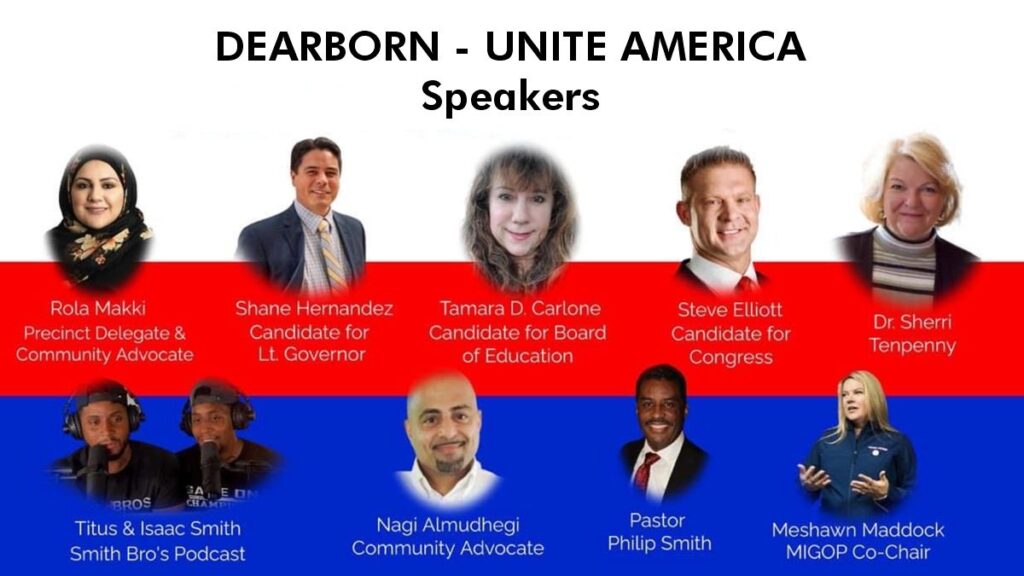 Rola Makki: Precinct Delegate & Community Activist
Shane Hernandez: Candidate For Lt. Governor
Tamara D, Carlone: Candidate for Board of Education
Steve Elliot: Candidate for Congress
Dr. Sherri Tenpenny
Titus & Isaac Smith: Smith Bro's Podcast
Nagi Almudhegi: Community Advocate
Pastor Philip Smith
Meshawn Maddock: MIGOP Co-Chair