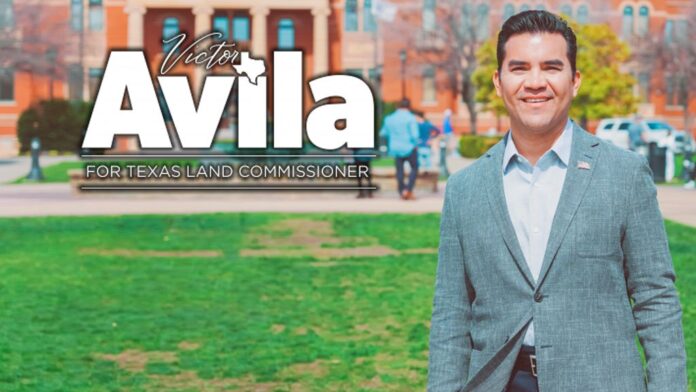 Retired ICE Special Agent Wounded in Action Runs to Secure the Border
ARLINGTON, TX – Today, former Immigration and Customs Enforcement (ICE) Special Agent Victor Avila declared his candidacy for the Republican nomination to serve as Texas Land Commissioner. As an ICE Special Agent, Victor and his partner, Jaime Zapata, were ambushed by the Los Zetas Cartel. Agent Zapata was killed while Victor was severely wounded. Since then, Victor authored Agent Under Fire, recounting his ambush by the cartel, and outlining what steps must be taken to secure the border. Victor Avila remains a subject matter expert on border security, frequently featured in media, including Fox News, Newsmax, One America News Network, as well as many other publications and podcasts. A documentary made on the ambush Victor survived is available on YouTube.
"I am running to finish what President Trump started. As Texas Land Commissioner, Texas will complete President Trump's wall, with or without federal support," wrote Avila. "The state of lawlessness and anarchy along the southern border is a national disgrace, and cannot be allowed to continue. Every day, men and women are subjected to physical, psychological, and sexual abuse by the cartels smuggling them into the United States. With them, the cartels are also smuggling and trafficking deadly drugs, illegal weapons, and even suspected terrorists. Governor Abbot may be afraid to take on the cartels, but I am not. I have fought them before and will continue to fight them as Texas Land Commissioner.
"The threats to Texas are not limited to our border. Far-left ideology is infiltrating our children's schools under the guise of anti-racism education. When I learned Critical Race Theory was to be implemented in my children's school district, I stood up and fought back alongside my community. As Texas Land Commissioner, I promise to defund Critical Race Theory and ensure that no taxpayer dollars go towards funding Marxist propaganda.
"Finally, President Biden's misguided energy policies have hurt Texas, the nation's leader in oil production, more than any other state. As Texas Land Commissioner, I will champion economic growth and job creation in Texas, and fight back against greenhouse gaslighting by the Biden Administration.
"Amid all these crises it has become clear that Austin is no longer working for Texas, but for themselves. Electing another career politician to serve as Land Commissioner will not change anything. Texas needs a bonafide outsider who is unafraid to take on the establishment. I am proud to be that outsider, and I am ready to fight for you in Austin."
Last month, President Biden signed the "Jaime Zapata and Victor Avila Federal Officers and Employees Protection Act"  after its bipartisan passage led by Sen. John Cornyn (R-Tx.) and Sen. Chris Coons (D-Del.). The bill ensures that individuals who have killed or attempted to kill U.S. federal officers and employees serving abroad can be brought to justice and prosecuted in the United States.